Jazz in London is an ever-changing ensemble. While the city is stuffed with iconic jazz music venues, the musical landscape is always shifting, with new venues popping up all the time.
The musical appearance made by the Original Dixieland Jazz Band at the London Hippodrome in 1919 was the first official live jazz performance ever in the United Kingdom. Seven years later, Spanish jazz pianist Fred Elizalde and his band started performing regularly on the BBC.
In the 1920s and 30s, the first jazz clubs started opening up in Soho. The Shim Sham, one of the first underground clubs, attracted jazz's most famous faces and was at the time the hottest ticket in London. However, it was not to last. The club fell by the wayside but the emergence of jazz clubs across England's capital grew faster than a bebop drum beat.
Many jazz lovers trace London's modern jazz roots back to one bar, which would not have existed without the Shim Sham. A regular at the bar, a jazz enthusiast, would hone his idea of the perfect jazz bar whilst watching shows at the Shim Sham.
The man's name? Ronnie Scott.

Best Jazz Clubs In London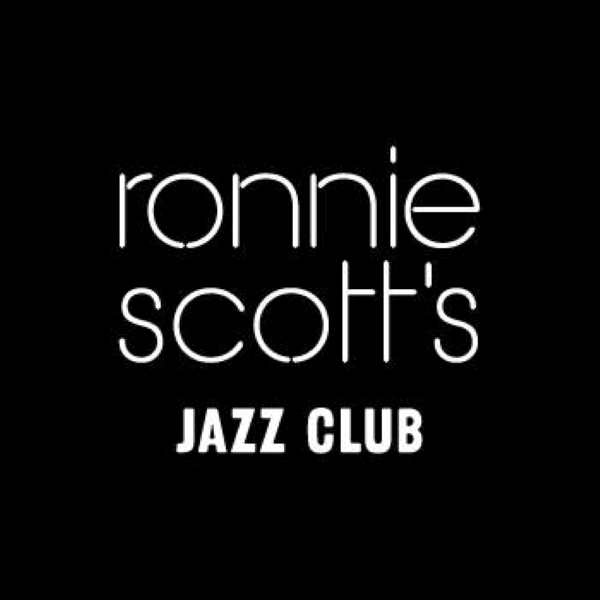 1. Ronnie Scott's
47 Frith St, London W1D 4HT, United Kingdom
Where better to start than one of the oldest jazz clubs in the world? Ronnie Scott's on London's Gerard Street was opened in 1959 in a basement bar in the heart of swinging Soho.
The original site switched locations just six years later in 1965 to the current incarnation at Frith Street, where it has thrived for almost sixty years.
The Rolling Stones, Princess Margaret, and The Beatles, and many London gangsters frequented the club in its heyday. Over the years, the club's main room has seen legendary performances by Nina Simone, Chet Baker, Jamie Cullum, Jeff Beck, Van Morrison, Ella Fitzgerald, Jimi Hendrix, and Eric Clapton.
As is a tradition in jazz clubs, jazz enthusiasts can watch the main act with a cocktail, three-course meal or simply a glass of water! A waiter is assigned to each table to cater for your every requirement.
After the main acts have finished, dessert takes place in the form of The Late Late Show from Wednesdays to Sundays, which sees the aftershow bands finish at 3 am.
For a different flavor, a walk up the famed staircase will lead you to Upstairs @ Ronnie's, an intimate and sophisticated cocktail bar that is one of the best-kept secrets in London. DJ sets playing funk and flamenco served largely a younger crowd.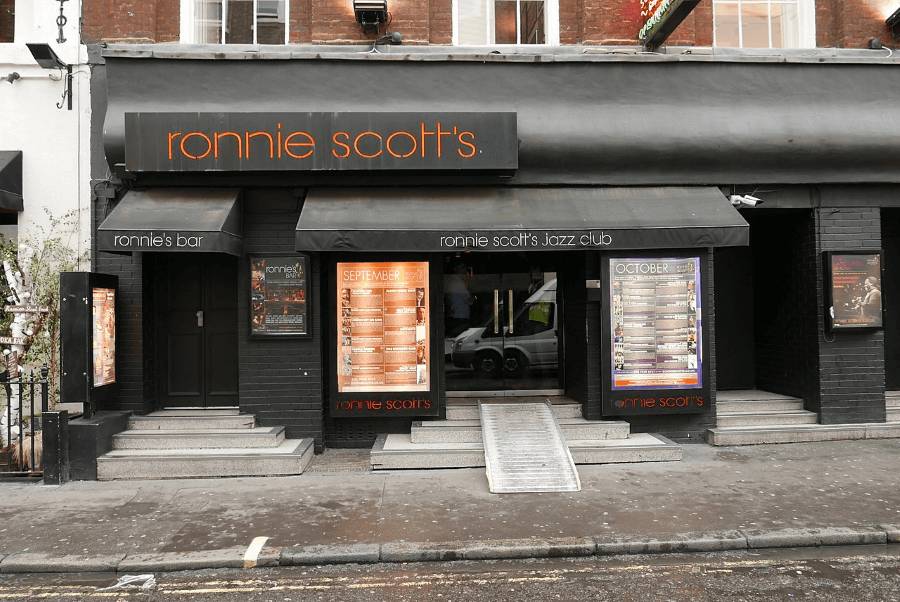 The dress code is officially casual, although you may feel more at home in smart casual attire.
The club is also famed for its off-the-cuff musical appearances. In 2015, Lady Gaga played a show at Ronnie Scott's with only a couple of hours of notice. Prince also played a 'guerilla gig' at the venue in 2014, where celebrities such as Adele, Noel Gallagher, and Stephen Fry were smuggled in disguised as bartenders, to ensure they evaded the artists' strict guestlist.
Discover next the 10 best British Jazz Albums
Every November, the club is one of the venues for the London Jazz Festival. A night out in London is not the same without a trip to Ronnie Scott's.
---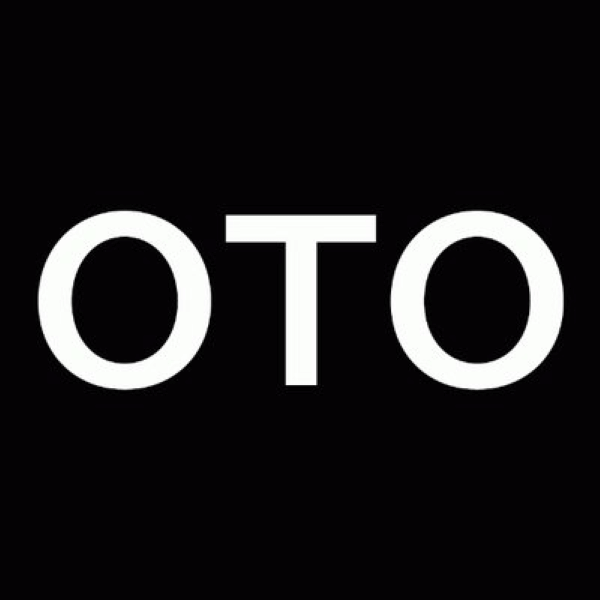 2. Cafe OTO
18-22 Ashwin St, London E8 3DL, United Kingdom
Cafe OTO in London's Dalston is a free jazz, experimental, avant-garde, and improvisation hub where members and non-members can enjoy any genre of music ranging from free jazz to psych rock, krautrock, and drone. The club is one of the prestigious venues for the London Jazz Festival every November.
Cafe 'OTO' (which translates as sound or noise in Japanese) was founded in 2008. The venue provides a welcome home for music that exists outside of the mainstream. To help support this, they offer memberships with discounts and members'-only perks. They also offer one year's free membership for the low or no waged.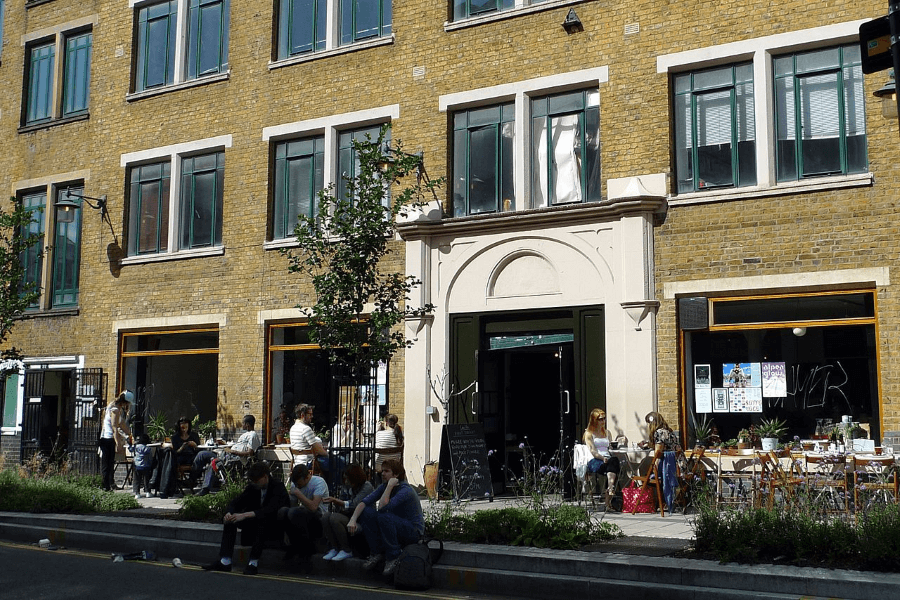 The venue has packed in a lot of special nights into its short existence. Notable gigs include Thurston Moore (who lives nearby), ex-Can frontman Damo Suzuki, Yoko Ono, and the legendary Sun Ra Arkestra, who performed a week-long residency.
Cafe OTO opens early for coffee, cakes, and Persian-inspired cuisine.
The cafe's music program is also managed by OTOProjects. The events business is a not-for-profit Community Interest Company responsible for many memorable nights at the site which occupies the ground floor of the former Reeves & Sons Ltd. Print House.
---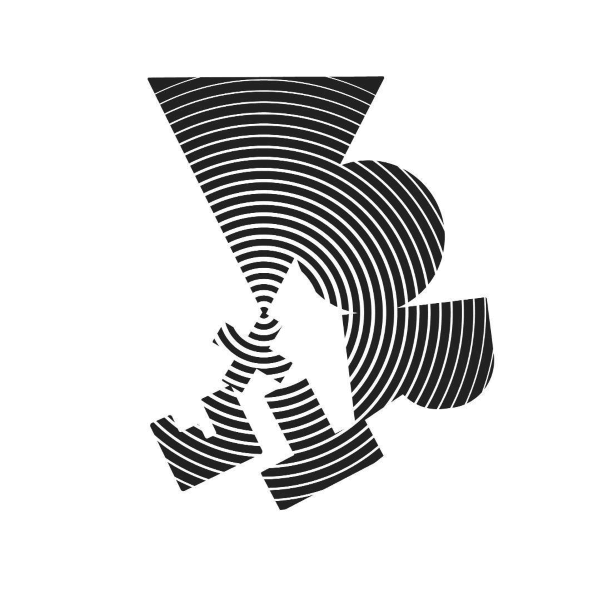 3. Vortex
11 Gillett Square, London N16 8AZ, United Kingdom
Down the street, just a stone's throw away from Cafe OTO is the Vortex, a venue which American jazz and blues magazine DownBeat frequently names as one of the 150 best jazz bars in the world. It is also considered one of the UK's best jazz clubs.
Vortex is responsible for the launch of several up-and-coming artists' careers, including Mercury-nominated bands Polar Bear and Portico Quartet. The Vortex's own record label's first release, also by Portico Quartet, was Mercury Prize nominated. Sons of Kemet did some of its first gigs at the Vortex.
Formed in 1984, the Vortex stayed at its original Stoke Newington Church Street site until 2005, when it finally moved into its new 100-capacity home on Dalston's up-and-coming Gillett Street.
Still, a community-supported project, the work of the site's volunteers remains absolutely crucial to its future. The clubs' highlight is the Vortex jam sessions, a weekly session on Sunday evenings, hosted by rotating casts of London's finest jazz musicians.
Experimental and improvised jazz is Vortex's mainstay. It is a spiritual home for many expert saxophonists.
---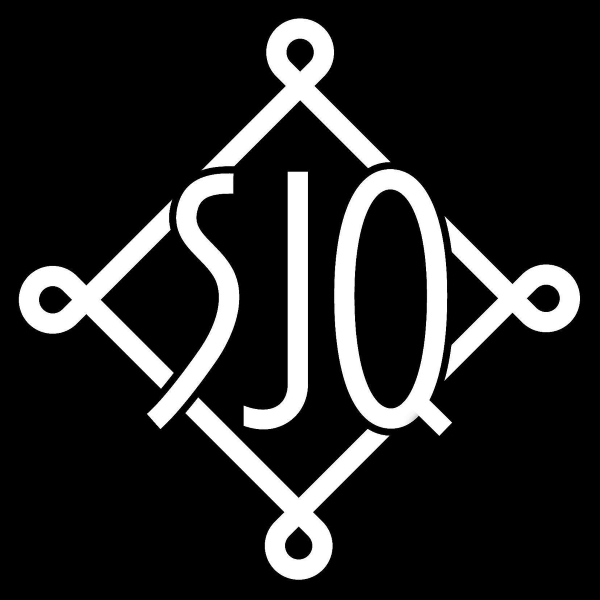 4. Servant Jazz Quarters
10A Bradbury St, London N16 8JN, United Kingdom
Despite the name, the Servant Jazz Quarters is not strictly a jazz venue. However, it gets our nod purely due to the strength of its programming over the years. Put simply, every gig at the SJQ is fantastic.
Also, it helps when your neighbors are also jazz lovers. The SJQ is so close to Vortex, it is said the restaurant previously occupying the site used to be able to hear the Vortex's soundchecks.
The ground floor serves great cocktails and beers, including American classics Big Moon and Kona Big Wave, alongside local brew Dalston Sunrise IPA. The underground space, dedicated to gigs, is an intimate affair with a capacity of 50 to 100.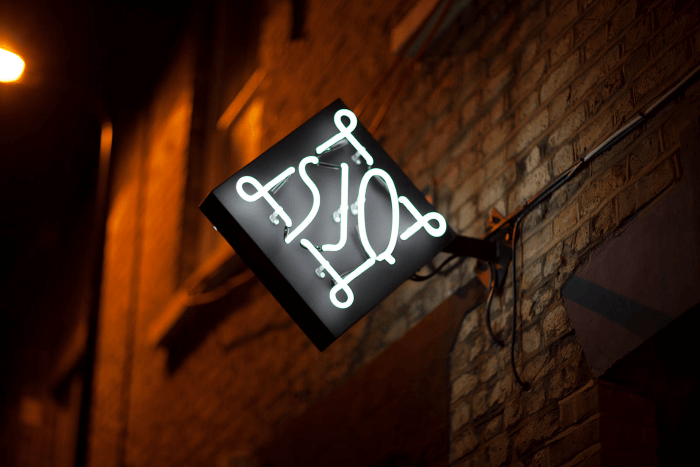 The venue has seen pre-fame sets by bands such as Happyness and Car Seat Headrest. In 2021, Seb Rochford undertook a four-month residency at SJQ, playing solo sets and collaborating with musicians Lara Jones, Jason Singh, Theon Cross, Shirley Tetteh, and Neil Charles. Hot Chip's Alexis Taylor has also played a headline set.
It's comforting to know that whatever the weather, downstairs at the SJQ will always be a warm affair. Upcoming shows include sets by jazz-influenced improvised musician Hohnen Ford and BRIT School multi-instrumentalist Natsuma.
---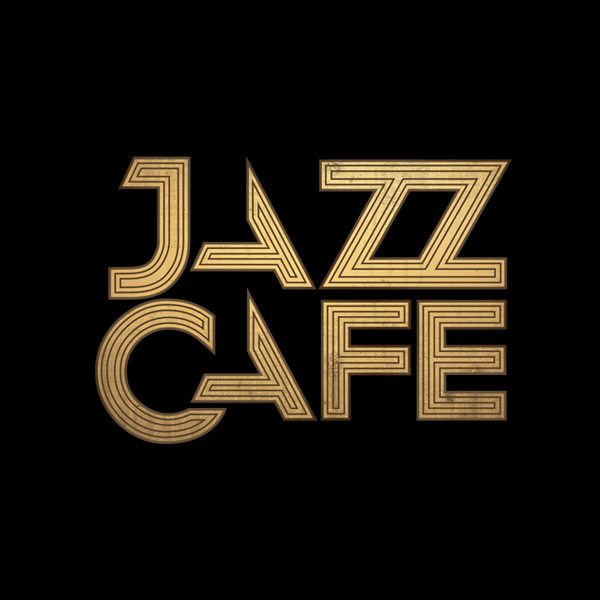 5. Jazz Cafe
5 Parkway, London NW1 7PG, United Kingdom
A truly iconic site on Camden's Parkway, London's Jazz Cafe is one of the city's best music venues. The Jazz Cafe has been the location of many legendary concerts from artists such as Jamiroquai, Amy Winehouse, Roy Ayers, Pharoah Sanders, Bobby Womack, Mulatu Astatke, and Adele.
The original Jazz Cafe was founded in a tiny building (now an artisan cheese shop) in Hackney's Newington Green in the 1980s. It was then moved to its current site, a disused Barclays bank building just off Camden High Street, in 1990. Once Mean Fiddler took control of bookings two years later, the club's status started to dramatically increase.
The cafe offers a capacity of 475 people over two levels: a standing area on the venue's ground floor and a mezzanine restaurant overlooking the stage.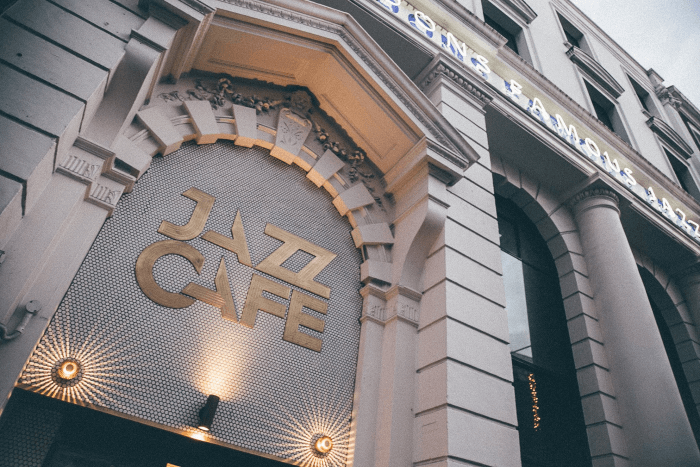 There is no dress code at the Jazz, but as the venue is very smart, it may be polite to follow a 'no sportswear or flip flops' dress guide.
Soul City is a popular club night, playing soul, disco, and funk every Saturday evening. The venue is also known for its nights dedicated to classic albums.
Upcoming concerts feature sets from many high-profile artists such as psychedelic rock jazz band Soft Machine, Blue Note pianist Nduduzo Makhathini, and electro-jazz duo Sungazer.
---
Best Jazz Clubs in London List
Ronnie Scott's – 47 Frith St, London W1D 4HT, United Kingdom
Cafe OTO – 18-22 Ashwin St, London E8 3DL, United Kingdom
Vortex – 11 Gillett Square, London N16 8AZ, United Kingdom
Servant Jazz Quarters – 10A Bradbury St, London N16 8JN, United Kingdom
Jazz Cafe – 5 Parkway, London NW1 7PG, United Kingdom
Discover the best jazz clubs in New York, Chicago, Stockholm, Copenhagen, and Paris. Or just enjoy England with the Best Jazz Clubs in London.
---