Jazz was first recorded in Copenhagen just under one hundred years ago. Whilst it took the 50s and 60s for Denmark to assert itself as a key jazz capital of the world, it was that key moment in the 1920s that initiated early Danish interest in the genre.
Danish musician Valdemar Eiberg formed the first Danish jazz band and released the track "I've Got a Cross-Eyed Papa" with musicians Otto Lington and Kai Ewan, under the name Valdemar Eiberg Og Hans Jazz Orkester. However, even though notable American musicians had started to flock to the city's live music bars, jazz music was still a long way yet from having its moment in the limelight.
Many musicians came out to attack this new genre of music, including prominent Danish musician Carl Nielsen and Denmark's Radio director Emil Holm. Jazz's reputation was further damaged in 1928 when St. Louis musician Josephine Baker flashed her breasts during a live performance, leading people to associate the free expression of jazz with unbounded anarchy.
It was only during the uprising of the Nazis–who vehemently opposed the liberal expression which jazz allowed–that the genre really started to grow in popularity. In 1979, Copenhagen Jazz Festival was formed. Nowadays, it has become one of Europe's most important live music festivals, playing to over 250,000 each year.
Let's look at the venues which helped to put Copenhagen jazz on the map.
Best Jazz Clubs & Venues in Copenhagen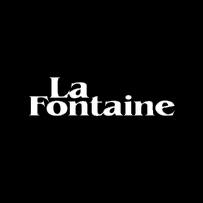 1. La Fontaine
Kompagnistræde 11, 1208 København, Denmark
La Fontaine is a great place to start as it's the oldest jazz bar in Copenhagen. Located in the city's old town Indre By district, the castles, lakes and squares provide a perfect backdrop for this legendary bar. It also has a key slot in the Copenhagen Jazz Festival, with late-night jazz sessions not uncommon.
With a capacity of 100, the venue is incredibly intimate and cozy. La Fontaine is also a real-life embodiment of the old classic smokey jazz bar–as you can actually smoke inside.
Live jazz sessions on Fridays and Saturdays (23:00 – 3:00) and Sunday evenings (21:00- 1:00) means famous musicians playing elsewhere in the city frequently pop by to have an impromptu jam onstage.
Upcoming concerts feature Danish musical stars Niclas Knudsen, singer Sinne Eig, saxophonist Jan Harbeck and former 'Best New Danish Jazz Artist of the Year' Mads Mathias. Famous musicians that have previously graced the stage are Lady Gaga, legendary American saxophonist Ben Webster (who lived and was cremated in the city), and trumpeter Wynton Marsalis.
Jazz isn't the only string in La Fontaine's cello, however. The venue also hosts a poetry night on the first Monday of the month from 20:00 to 22:00.
---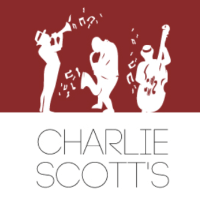 2. Charlie Scott's
Skindergade 43, 1159 København, Denmark
Charlie Scott's was voted the best live jazz venue in Denmark in 2013. It's no surprise when you watch one of the many live jazz sessions they hold during the week when the bar closes at midnight. Another highlight is the live bands at weekends, where Friday and Sunday nights can see spontaneous jam sessions until the closing time of 03:00.
Whilst the stage welcomes any kind of music, Charlie Scott's does have a particular love for the music of New Orleans, traditional jazz. old school swing, blues, and funk.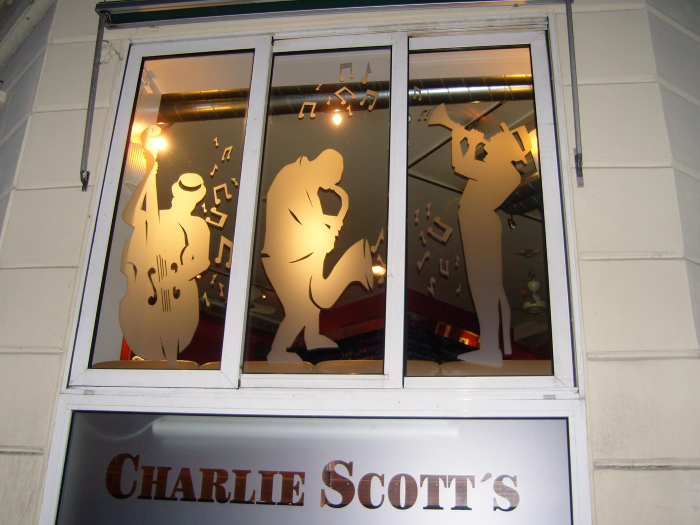 For an impromptu freeform performance, you're likely to find yourself downstairs is an intimate musical room. Upstairs is a larger stage for bigger shows, plus a pool table and TVs. Charlie Scott's also doubles as a sports venue, so if people drinking pitchers of Carlsberg and shouting at the rugby is your thing, you may enjoy getting here early.
Regular residencies include The Chris Tanner Trio, who usually play every Tuesday evening, and Danish guitarist and composer Niclas Knudsen.
If it's too cold to step onto the street for a cigarette, they even have a smoking room indoors.
---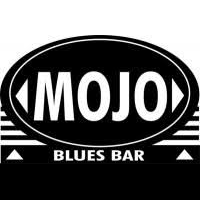 3. Mojo
Løngangstræde 21C, 1468 København, Denmark
If you're staying in the center of the city and are a fan of blues, this live music venue is the late-night club for you. Mojo is very centrally located in Løgangsstræde, near all the main sights, and immensely popular in the city.
The venue (named after the lyrics of old blues songs, such as, "Got my mojo working") is a mainstay of modern jazz culture in Copenhagen, having occupied the spot since 1983. Dark and atmospheric, the bar is the perfect location for a cozy evening, especially once you throw in a few rounds of Tuborg or make friends with strangers.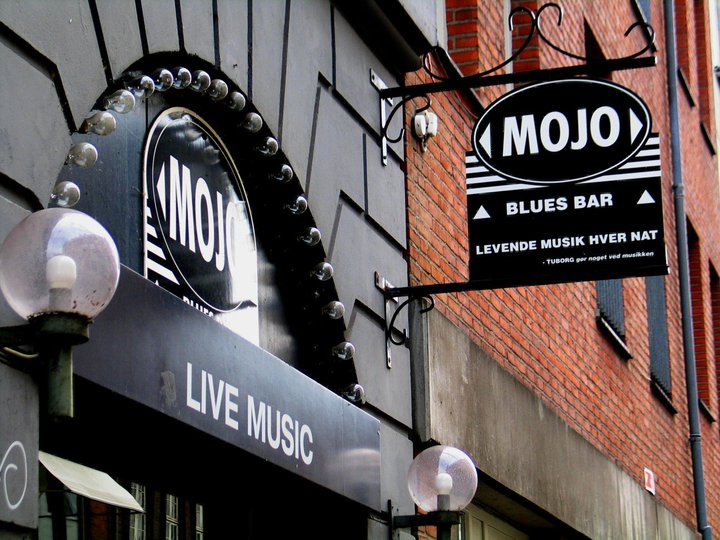 In the heart of the old town with its tiny streets and minuscule canals, the venue is also a great choice for meeting old friends. It is also perfect if there's somebody you're looking to impress. Perhaps the perfect winter's afternoon would be spent exploring the nearby National Museum of Denmark with John Tchicai or Jesper Thilo playing through your headphones. After then, you walk out into the snow, down the 50 yards to Mojo, and pop indoors for the venue's popular Monday Juke Joint.
Be sure not to make too much noise, however. The club has a noise limiter that purposefully forces a power cut once a certain level of volume has been reached. This is due to noise restrictions agreed upon with the neighboring houses.
Mojo is open from 20:00 – 05:00. Contemporary sets include blues artist Copenhagen Jim and Denmark-born Big Creek Slim.
---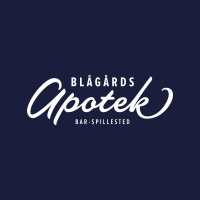 4. Blågårds Apotek
Blågårds Pl. 2, 2200 København, Denmark
Blågårds Apotek (translated as 'Blågårds Pharmacy') is a truly unique place to hang out and watch live music, even for the idiosyncratic Copenhagen. Located in the culturally diverse Indre Nørrebro neighborhood, the place informally referred to as 'Kroteket' (AKA 'The Barmacy') is primarily a celebration of beers from all over the world. Whilst other classic drinks are on offer, it's the beer and jazz that bring the crowds. More about the jazz later.
The bar's atmosphere is very rustic, having been on the same site for over a century. And while it helps that the bar is an old pharmacy counter, it is the charm that really makes Kroteket what it is today. People come to talk about global politics and daily chores, not stare at the packed rows of liquors where previously would have been medicine bottles.
Jazz Jam is a popular Monday evening institution, between the hours of 20:00 – 23:00. Wednesday is the night of the singer-songwriters, who get the same slot pushed half an hour back. Friday and Saturday nights are all about DJs and live music, namely jazz, blues, rock and folk.
As it's a non-profit, the atmosphere is creative and relaxed. Exhibitions are held monthly and talk always turns to the inhabitants of Marienborg over the years, with the backdrop of soft jazz.
Organic lager, Liberal politics or Louis Armstrong. Whatever your preference, it all happens down at the Barmacy.
---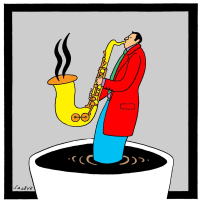 5. Jazzcup
Gothersgade 107, 1123 København, Denmark
Jazzcup is the latest innovation for Copenhagen's strong jazz music scene. The concept is a record and CD shop, café, and music venue all rolled into one. The venue is part of JazzKlubben, an organization with the purpose of being an ambassador for jazz music in Denmark.
Before a mid-week concert, spend some valuable time grabbing a Czech lager from the Jazzcup café. Then head into Stunt Records, the record shop set up by Peter & Søren, two jazz obsessives. You can select a classic album by a jazz legend or place your trust in the hands of the friendly staff.
Before you've even got bored of looking at everything, the stage will be set and you'll be ready to take your place near the stage in the 80-person capacity venue.
Upcoming concerts include the Jesper Thilo Quartet, Kristin Korb Trio, Snorre Kirk European Quartet and Niels Jørgen Steen Monday NIght Quintet. The Jazzcup is also a key venue for the Copenhagen Jazz Festival.
Jazzcup is closed on Mondays but open Tuesday to Thursday from 10:00 – 17:30, Friday from 10:00 – 18:00, and Saturday from 10:00 to 14:00. Although, closing time is extended until 19:00 on the day of a concert.
The venue is closed on Mondays. However, if you're in the area, the site is just a four-minute walk away from Rosenborg Gardens.
---
Best Clubs & Venues List
La Fontaine – Kompagnistræde 11, 1208 København, Denmark
Charlie Scott's – Skindergade 43, 1159 København, Denmark
Mojo – Løngangstræde 21C, 1468 København, Denmark
Blågårds Apotek – Blågårds Pl. 2, 2200 København, Denmark
Jazzcup – Gothersgade 107, 1123 København, Denmark
Discover next the best jazz clubs in New York, Chicago, Stockholm, Paris, and London.
The Best Jazz Clubs In Copenhagen