Head Hunters By Herbie Hancock: Song By Song Album Review
Herbie Hancock released Head Hunters on October 26, 1973, as their twelfth studio album. Soon after its release, Head Hunters became commercially one of the most successful albums in the era of jazz-funk and rock. The album busted like a boom to the people of the 70s. Especially those who like jazz and rock more as this album is one of the biggest hits of all time in these genres. HeadHunters hunted into billboard 200, grabbing the number 13 position. The album was like a breakthrough for Herbie and his mates.
Head Hunters – Complete Album Review
During the 70s, Herbie Hancock was experimenting with different kinds of music, especially jazz and fusion. So we can say, HeadHunters was one of his experiments. The album has just 4 tracks in it but all of them are so popular–it was the first jazz album to go platinum–that you may also have heard them at least once.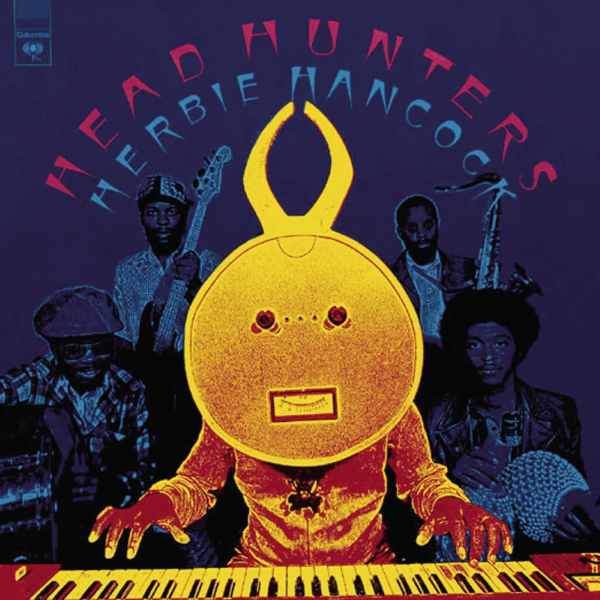 Herbie Hancock
Head Hunters
(Columbia)
1. Chameleon
"Chameleon" is a jazz instrumental track composed together by Herbie Hancock with Bennie Maupin, Paul Jackson, and Harvey Mason. All of them also performed on the tracks of Head Hunters.
It starts with an opening bass and then all the instrument joins up one by one. Every instrument has its own way of creating a melody and adding fusions to the track. A solid beat is consistently played with the drums when the saxophone keeps adding new melodies backed up with all the other instruments. Maybe Herbie was trying to show off his skills with quick shifts and effects.
This 15.44-minute song is a perfect fusion of multiple instruments that includes ups and down, slow and fast, to visit different notes and create a melody making it a perfect fusion of music. The song is set to a funk beat and features a recognizable jazz bass line. A pleasure for your ears.
2. Watermelon Man
"Watermelon Man" is another instrumental hit. However, this is the new and updated version, which for many is–much–better. The track starts with a simple little piano melody that is played in a loop throughout the whole song. The master Herbie joins in real quick with his magic and constantly keeps adding new melodies to the end of the song.
Multi-layered rhythms are introduced early in "Watermelon Man" employing unexpected timbres. Percussionist Bill Summers introduces the initial layers by blowing across the top of a beer bottle to simulate the sounds of a Pygmy wind instrument. The electric bass line then joins the flute to form the contour of a motif. Clavinet riffs by Hancock prepare the ground for the introduction of the theme.
After the first quarter of the song, you will feel a bit more smooth and relaxing sort of music. Benni Mauppins' great sax solo is worth complimenting in "Watermelon". The song holds on to its flow until the last second. Give yourself relaxation for 6.31 minutes with "Watermelon Man".
"Watermelon Man" is a tune with a catchy melodic hook and a bouncy, see-saw backbeat. Herbie was only 22 years old when he wrote this song. It was based on his childhood memories of a watermelon vendor whose car rumbled loudly along the cobblestone streets of his Chicago neighborhood in the 1940s.
4. Sly
"Sly" starts with a blow in the saxophone compiled with drums at an upper beat. Maupin showed off his mastery of the saxophone throughout the song. Soon all the other instruments join up to create a musical fusion. The saxophone worked out as the lead of the entire music when all the other instruments were just backing up. Herbie again started showing his keyboard skills in the next part of the song. At 5.30 minutes you will feel like the song is ending, but no that's where the new melodies come. Here the keyboard worked as the front man infused with other instruments. Also, the drum beats made it heavenly.
"Sly" pays homage to Sly and the Family Stone's lead singer. The melody is more intricate than the record's first two tracks and alternates between fast-paced and slower ballad passages. Maupin's John Coltrane influences are evident in its serpentine lines, angular phrasing, and increased abstraction. Using a pentatonic tone, chromaticism, and transposition, Hancock's solo on a Fender Rhodes electric piano makes use of melodic and rhythmic repetition. Let us know if you have any opinions in the comments part.
5. Vein Melter
"Vein Melter" is the last track of this album. There could have been some more songs in this album, but Herbie concentrated on quality over quantity.
The song starts very slowly. So slow that you may feel this is the best sleep time song for you. But this is what makes it unique and special. Soon the song gains some pace in it with the addition of all the other instruments. If you want to take a break from the monotony and hassle of life, just put on your earphones play this track, and close your eyes.
This 9.09 minutes of relaxation is a pure piece of art in the world of soft jazz instrumentals. Thanks to Herbie Handcock for this unique addition.
---
Herbie Handcock Team in Head Hunters
Bennie Maupin: His full name is Benjamin Maupin, an American jazz multireedist. Bennie performs with saxophones, flute, and bass clarinet. We really admire his saxophone playing skills used in this album
Paul Jackson: Paul Jerome Jackson is an American jazz electric bassist and composer who played bass in Head Hunters.
Harvey Manson: Harvey William Mason is a drummer and a percussionist. We mostly heard his drum skills in every song of HeadHunters.
Bill Summers: He is popular for his percussion skills in this album. He also plays multiple other instruments.
Discover next: the Best Herbie Hancock Albums
---
Final Words
Herbie Hancock's career turned on this album that launched him into the fusion jazz spotlight. Hancock established a deeply funky, texturally gritty groove over which he took liberties with electric synthesizer solos, mainly referencing Sly Stone, Curtis Mayfield, and James Brown. He strongly connected jazz to the rhythms of funk, soul, and R&B while maintaining all of the jazz sensibilities, especially with his lengthy improvised solos, which in turn gave the album a broad appeal.
Herbie Hancock
Head Hunters
(Columbia)
---