John Coltrane, a towering figure in the realm of jazz, left an indelible mark on the music world with his revolutionary approach and boundless creativity. From his early days as a sideman with luminaries like Dizzy Gillespie and Miles Davis to his prolific career as a bandleader, Coltrane pushed the boundaries of jazz and redefined its possibilities.
Here we attempt to explore ten of the greatest records in his legacy.
---
The 10 Best John Coltrane Albums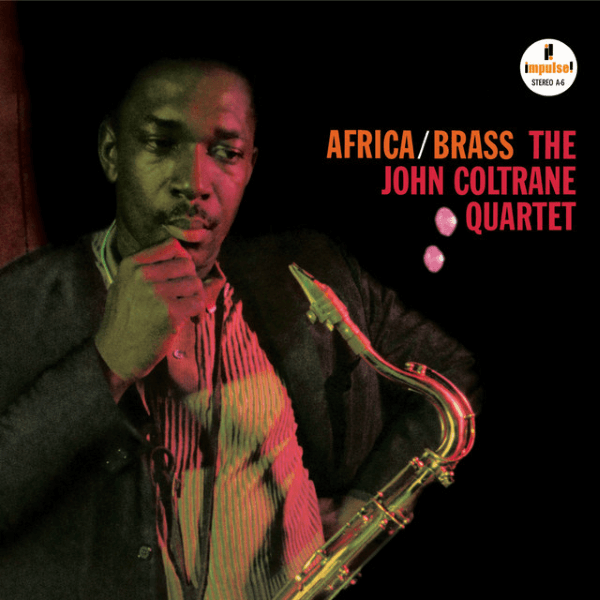 10. Africa/Brass
Impulse!, 1961
Africa/Brass marked John Coltrane's impressive debut on the Impulse! label in 1961. This album stands out for its innovative use of an expanded ensemble, featuring a "big band" configuration with trumpets, trombone, baritone saxophone, Eric Dolphy's bass clarinet and flute, and an unconventional addition of French horns, euphonium, and tuba. The formidable quartet consisting of McCoy Tyner, Reggie Workman, and Elvin Jones, alongside Coltrane, provides the driving force behind the music. Tyner and Dolphy also played crucial roles in the arrangements.
At the heart of the album is the captivating composition "Africa," an extended piece that showcases Coltrane's ability to extract lush harmonics and dynamic ensemble interplay reminiscent of the styles of Duke Ellington, Gil Evans, and Charles Mingus. The arrangement demonstrates Coltrane's adeptness at eliciting extraordinary performances from the ensemble.
In contrast, "Blues Minor," another original composition by Coltrane, unleashes a torrent of tenor saxophone pyrotechnics, showcasing his unparalleled virtuosity over the course of the tune's exhilarating seven-and-a-half minutes.
Africa/Brass serves as a remarkable showcase of Coltrane's artistic vision, pushing the boundaries of his sound and exploring new sonic territories. It is an album where the fusion of Coltrane's quartet and the expansive ensemble creates a captivating musical tapestry, further solidifying Coltrane's status as a visionary in the world of jazz.
John Coltrane: soprano, tenor saxophone; Booker Little: trumpet; Julius Watkins, Bob Northern, Donald Corrado, Robert Swisshelm: french horn; Bill Barber: tuba; Pat Patrick: baritone saxophone; McCoy Tyner: piano; Reggie Workman: bass; Elvin Jones: drums
---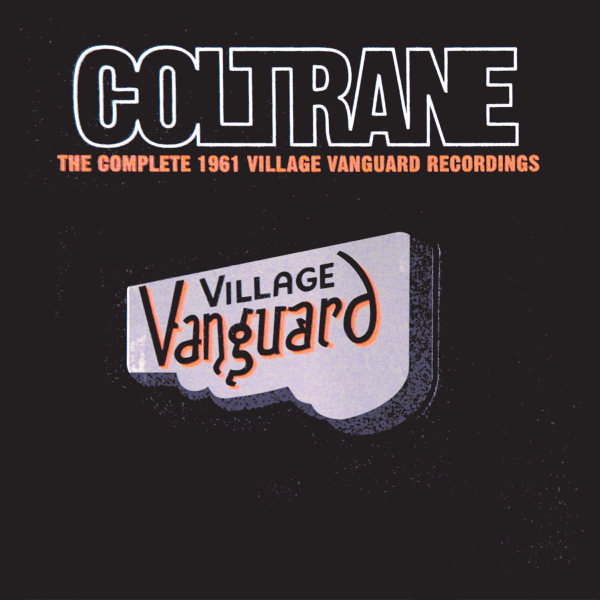 9. The Complete 1961 Village Vanguard Recordings
Impulse!, 1997
The Complete 1961 Village Vanguard Recordings is an essential box set that captures Coltrane's remarkable performances at the Village Vanguard in November 1961. Released posthumously in 1997 by Impulse! Records, this comprehensive collection assembles all the available recordings from these historic shows.
Spanning ten titles, the repertoire includes mesmerizing renditions of "Brasilia," "Chasin' the Trane," "Chasin' Another Trane," "Greensleeves," "Impressions," "India," "Miles' Mode," "Naima," "Softly, As in a Morning Sunrise," and "Spiritual." Throughout the performances, the lineup and instrumentation vary, but at the core is the incomparable John Coltrane Quintet featuring Coltrane and Eric Dolphy on saxophones, McCoy Tyner on piano, Reggie Workman or Jimmy Garrison on bass (sometimes both), and Elvin Jones on drums.
The record, often left out of these lists (i.e. Best of John Coltrane Albums), stands as a testament to the immense talent and innovation of John Coltrane and his ensemble. These live recordings not only capture the essence of the historic performances but also offer a glimpse into the spatial and sonic atmosphere of the iconic Village Vanguard. It is an indispensable addition to any collection, confirming Coltrane at the peak of his creative powers.
John Coltrane: soprano, tenor saxophone; Eric Dolphy: bass clarinet, alto saxophone; McCoy Tyner: piano; Reggie Workman, Jimmy Garrison: bass; Elvin Jones, Roy Haynes: drums; Garvin Bushell: oboe, contrabassoon; Ahmed Abdul-Malik: oud
---
8. Ascension
Impulse!, 1966
During the recording of Ascension, Coltrane enjoyed immense success both artistically and commercially. His previous album, A Love Supreme, achieved critical acclaim, as well as award and "Album of the Year" nominations. Coltrane held a prominent position in the jazz world. However, his music had become increasingly turbulent, moving toward the realm of free jazz. Influenced by saxophonist Albert Ayler and embraced as a mentor by younger avant-garde musicians, Coltrane stood in an ideal position to bring together fans and musicians who were previously hesitant or unfamiliar with the avant-garde movement.
An obvious influence was Ornette Coleman's Free Jazz: A Collective Improvisation. Ascension echoed the album in its continuous 40-minute performance and absence of breaks, however, Coltrane's effort succeeded in showcasing its own unique character.
Ascension represents a significant moment in John Coltrane's career, pushing the boundaries of jazz and paving the way for the emergence of free jazz. Its unique structure, its expanded lineup, and influential impact solidify its status as a landmark album in Coltrane's musical journey.
John Coltrane, Pharoah Sanders, Archie Shepp: tenor saxophone; Freddie Hubbard, Dewey Johnson: trumpet; Marion Brown, John Tchicai: alto saxophone; McCoy Tyner: piano; Art Davis, Jimmy Garrison: bass; Elvin Jones: drums
---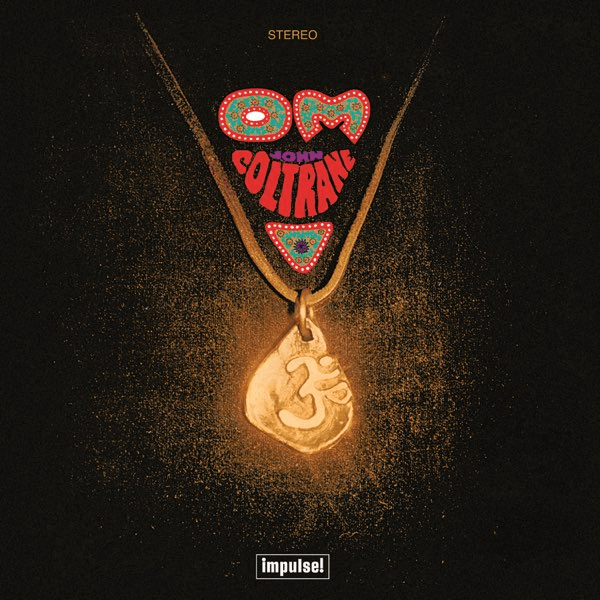 Considered one of Coltrane's most divisive albums, Om pushes the boundaries of musical exploration. It is orchestrated in an avant-garde fashion, defying traditional structures. The album is not simply a recording session; it takes listeners on a journey to discover the limits of musical expression.
Adding to its distinctive nature, Om incorporates spoken chants from the Bhagavad-Gita, further enhancing its spiritual and experimental atmosphere. Described as Coltrane's LSD record, it is regarded as a unique experience that appeals to true believers and those with an interest in musical history.
In a music world that has embraced diverse and groundbreaking works such as CAN's Tago Mago (1971)–one of the best Krautrock albums–, Jon Zorn's Naked City (1990), and the creations of Michael Gira, Om remains unparalleled. Its haunting, dark, and utterly terrifying atmosphere sets it apart, defying categorization and standing as a testament to Coltrane's fearless exploration of sound.
John Coltrane: tenor, soprano saxophone; Pharoah Sanders: tenor saxophone; Donald Rafael Garrett: double bass, clarinet; Joe Brazil: flute; McCoy Tyner: piano; Jimmy Garrison: bass; Elvin Jones: drums
---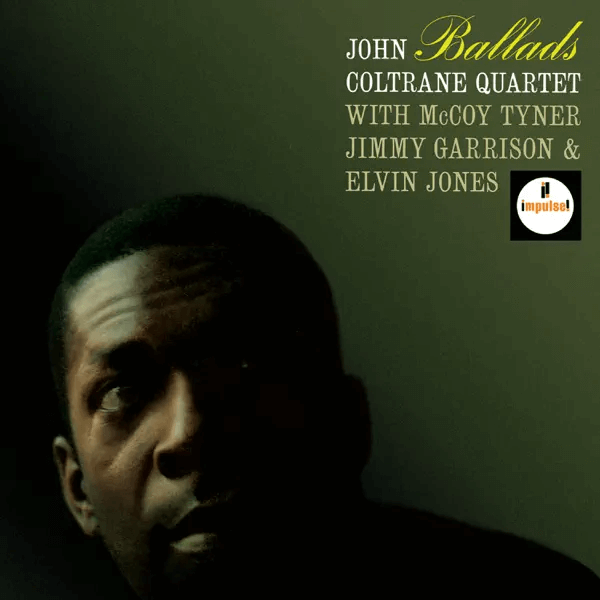 6. Ballads
Impulse!, 1963
Whilst not the most intricate or technically complex record, Ballads showcases the beauty that exists in the world of jazz beyond the spaces between sounds. Featuring Coltrane on tenor sax, McCoy Tyner on piano, Jimmy Garrison on bass, and Elvin Jones on drums, the album marked a clear change in pace and delivery for Coltrane, leading to some criticism at the time, accusing him of selling out.
However, in its simplicity and elegant restraint, Ballads offers quiet inspiration, with passionate solos and subtle nuance. It presents a wonderful sense of rhythm and pace, highlighting the quartet's collective musicality. Knowing Coltrane's capabilities, this stripped-back and vulnerable album appeals to the romantic side in all of us, making it an essential addition for those seeking a comprehensive understanding of his multifaceted musical output.
Discover next the Best Cool Jazz Albums
John Coltrane: tenor saxophone; McCoy Tyner: piano; Jimmy Garrison: bass (Reggie Workman on "It's Easy to Remember" ); Elvin Jones: drums
---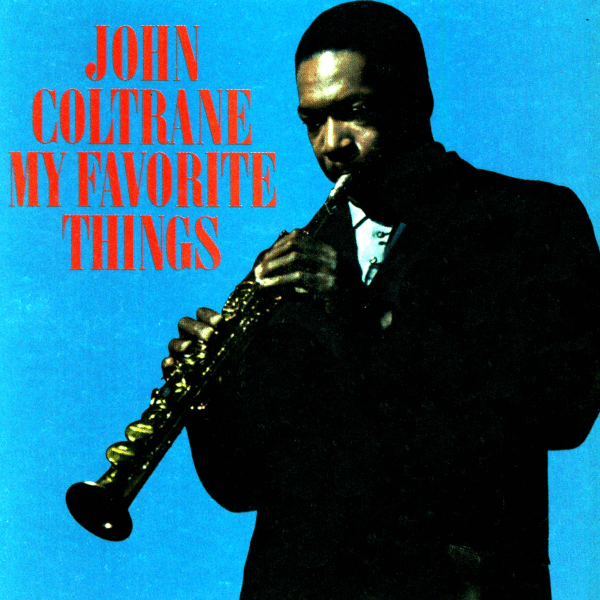 5. My Favorite Things
Atlantic Records, 1961
In 1960, John Coltrane departed from Miles Davis's group and formed his own quartet to delve into modal playing and explore freer musical directions. Utilizing a soprano saxophone gifted to him by Davis, Coltrane pursued artistic freedom that Davis's busy schedule wouldn't have allowed.
This album, My Favorite Things, was recorded while Davis was moving towards world music with his Grammy-winning release, Sketches of Spain, indicating their diverging paths. The 13-minute title track, a reinterpretation of the Richard Rodgers and Oscar Hammerstein II composition became one of Coltrane's personal favorites and a staple in his live performances, often extended to hour-long renditions.
Although not an original album, this is Coltrane following his passion and having fun doing so. The album's subsequent success led to its induction into the Grammy Hall of Fame in the 21st century, cementing its lasting impact.
John Coltrane: soprano and tenor saxophone; McCoy Tyner: piano; Steve Davis: double bass; Elvin Jones: drums
---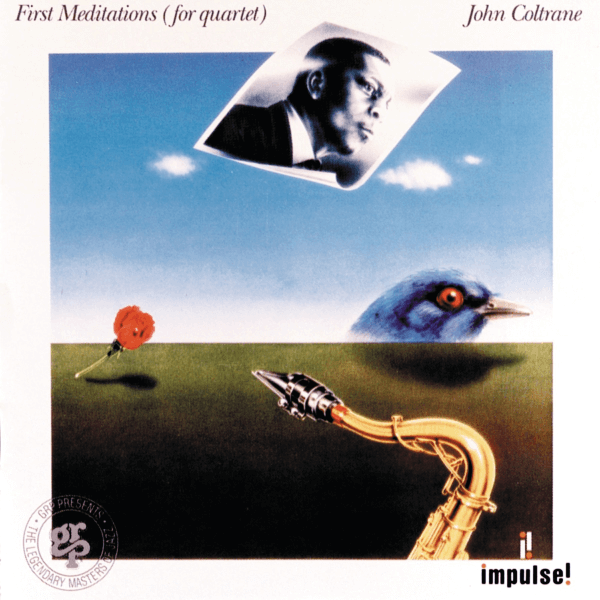 4. First Meditations (For Quartet)
ABC Impulse!, 1977
Often overlooked, Coltrane's album First Meditations holds an undeniable allure. The album, recorded in September 1965, represents the pinnacle of Coltrane's Classic Quartet's recordings. Although initially passed over by Coltrane himself, the album was eventually released in 1977, a decade after his untimely death. The subsequent release, Meditations, recorded just two months later, showcases a free jazz version of the compositions.
Each track on First Meditations reaches celestial heights, with Coltrane pushing his tenor saxophone to its limits, particularly in the breathtaking build-up of "Love." The album captivates with its passionate, ecstatic, and lyrical playing by Coltrane, complemented by the remarkable performances of McCoy Tyner on piano, Jimmy Garrison on bass, and Elvin Jones on drums.
The result is a hauntingly beautiful and emotionally charged suite that embodies the full breadth of Coltrane's musical powers, leaving a lasting impact on listeners.
John Coltrane: tenor saxophone; McCoy Tyner: piano; Jimmy Garrison: double bass; Elvin Jones: drums
---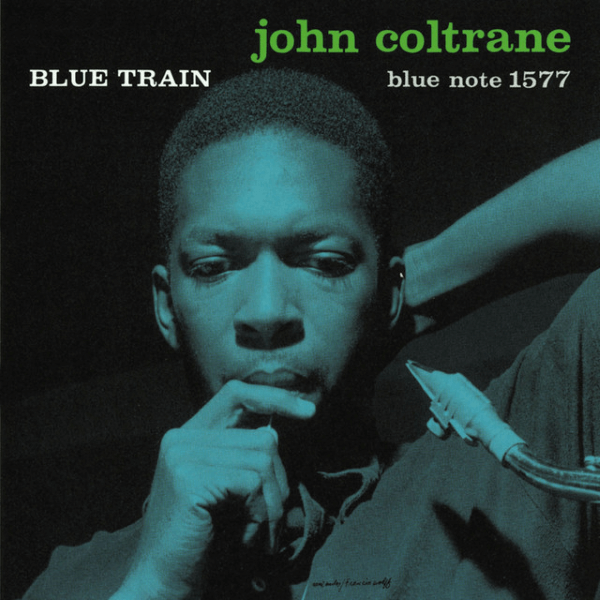 3. Blue Train
Blue Note Records, 1958
Blue Train still sounds incredibly fresh to this day. The opening trumpets of the album's opening title track take us back to that mid-September day in Hackensack, in the living room of Rudy van Helder's house cum recording studio.
The presence of Curtis Fuller on trombone, Kenny Drew on piano, and the legendary rhythm section sets the stage for this timeless hard bop masterpiece. Notably, "Lazy Bird" showcases the first recorded instance of the innovative "Coltrane Changes," introducing harmonic progression variations to common jazz chord progressions. Additionally, "Locomotion" delights listeners with Coltrane's ethereal improvisation and the remarkable trumpet solo by the young prodigy, Lee Morgan.
Read our in-depth review of Blue Train
John Coltrane: tenor saxophone; Lee Morgan: trumpet; Curtis Fuller: trombone; Kenny Drew: piano; Paul Chambers: bass; Philly Joe Jones: drums
---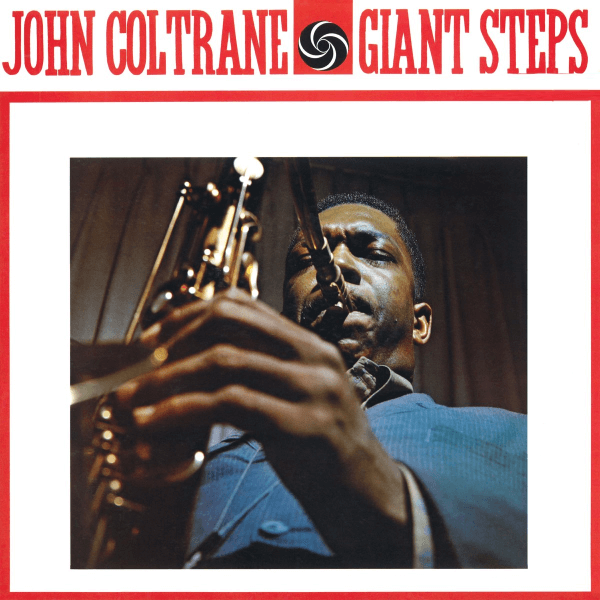 2. Giant Steps
Atlantic Records, 1960
In 1960, John Coltrane's albums My Favorite Things and Giant Steps revolutionized jazz, challenging traditional forms and pushing the boundaries of improvisation. Coltrane's approach centered on solos, rewriting the jazz canon, and creating captivating performances characterized by what was described as "sheets of sound."
The title track of Giant Steps featured a rapid chord progression in three keys, known as the "Coltrane Changes," making it one of the most challenging pieces in jazz history. While technically impressive, the album also showcased a tender side, with tracks like "Naima" and "Syeeda's Song Flute" reflecting Coltrane's personal connections.
Giant Steps has become essential for jazz enthusiasts and serves as a rite of passage in the learning of any wannabe jazz musician. This album truly cemented Coltrane's legacy as a groundbreaking artist.
Discover our in-depth review of Giant Steps
John Coltrane: tenor saxophone; Tommy Flanagan: piano; Wynton Kelly: piano on "Naima"; Paul Chambers: bass; Art Taylor: drums; Jimmy Cobb: drums on "Naima"
---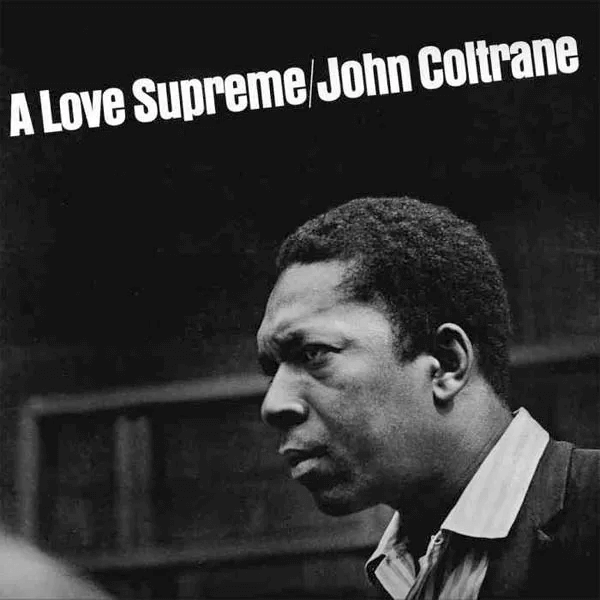 1. A Love Supreme (1965)
Impulse!, 1965
A Love Supreme is John Coltrane's magnum opus and a beloved masterpiece in the world of jazz and definitely the Best of the John Coltrane Albums. It delves into spiritual depths, with Coltrane composing it as a personal expression of his faith and spiritual journey.
The music captures raw emotion, ranging from joyous to introspective, and Coltrane's saxophone solos convey a sense of transcendence and deep connection with listeners. The album's four-part suite, including the iconic "Acknowledgement" and contemplative "Psalm," showcases Coltrane's technical mastery and his pursuit of a higher purpose through music.
Despite his untimely death at the age of 40, the impact of A Love Supreme extends beyond the album itself, solidifying its status as a timeless and profound work.
Listen and get lost in the indelible beauty:
Read our in-depth review of A Love Supreme.
John Coltrane: vocals, tenor saxophone; Jimmy Garrison: double bass; Elvin Jones: drums, gong, timpani; McCoy Tyner: piano
---
Best of John Coltrane Albums:
A Love Supreme (Impulse!)
Giant Steps (Atlantic Records)
Blue Train (Blue Note Records)
First Meditations (For Quartet) (ABC Impulse!)
My Favorite Things (Atlantic Records)
Ballads (Impulse!)
Om (Impulse!)
Ascension (Impulse!)
The Complete 1961 Village Vanguard Recordings (Impulse!)
Africa/Brass (Impulse!)