There is a well-known Latin phrase Omne trium perfectum which put simply, means "everything that comes in threes is perfect". Nobody knows where the principle of the perfect set of three originally came from but it is a philosophy the Ancient Greeks recognized and carried into the future. It is a phrase still used today, albeit heavily paraphrased.
It is a testament to John Coltrane's genius that he completed his own trium perfectum a mere five years after Miles Davis' triumphant trio 'Round About Midnight (1957), Milestones (1958), and Kind of Blue (1959). Not that Coltrane was just a bystander, however. Most jazz fans will be able to tell you about Trane's appearance on the classic albums, his distinctive tenor sax stamped over all three releases.
While jazz lovers may have their own debates about Davis' and Trane's best, there is no doubt that the frenetic Giant Steps (1960) may have a claim to be the best of all. The album's seven tracks, most of which are now contemporary jazz standards, are imbued with the full extent of Coltrane's talent.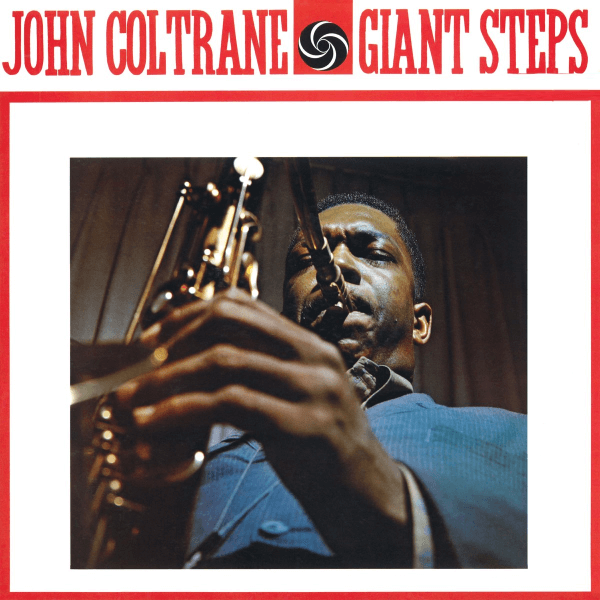 John Coltrane
Giant Steps
(Atlantic)
More specifically the album, which is wedged between Blue Train (1958) and A Love Supreme (1965) in Coltrane's 'all-time classic' canon, shows the extent of the jazz leader's unprecedented unique skills as a saxophonist and his innovative approach to jazz music.
The wild and frenetic title track, "Giant Steps" which lasts for less than five minutes–short for Coltrane–is perhaps the most famous and influential song from the record. With its complex chord changes and almost inimitable saxophone solos, the song is widely regarded as one of the most challenging pieces of music ever written for jazz musicians, due to its speed and complex chord changes. This makes it very difficult to play, even for experienced musicians in the modern age.
Coltrane's astonishing original recording has a tempo of 300 beats per minute. Once any musicians have mastered the speed, they still have to negotiate the rapid transition through the three keys of B major, G major, and E♭ major. Once the keys have been mastered, a musician then has to make the song their own.
Despite the complexity, musicians have not given up on the track. In fact, fascination with the 'obstacle course' of the track remains in full swing to this day, with Vox news website referring to it as "the most feared song in jazz". Although the composition has become a jazz standard, many artists lament the fact the song is so difficult to make their own, never mind to play. Miles Davis has insisted the melody was influenced by Nicolas Slonimsky's Thesaurus of Scales and Melodic Patterns.
The legacy of the song spreads to the album as a whole. With Giant Steps, we have on record one of the best examples of hard bop, the 1950s genre that was derived from the jazz clubs of New York City and Detroit. The album was recorded in the final month of the decade, one that provided many challenges for Coltrane but ended at his creative peak. 
At the beginning of the '50s, Coltrane was a frustrated session musician. After the success of touring with Miles Davis and then being kicked out of the band, it was assumed his career would fall by the wayside. However, after breaking out of a six-year battle with heroin addiction, Coltrane finally realized his talent and in 1957, hit an astonishing creative peak, releasing twenty-five records in ten years.
These ten years, which ended with Coltrane's untimely death at the age of 40, would prove to be his enduring legacy.
---
Giant Steps was recorded in just three days at Atlantic Records' studio in New York City. The first session was held on 4th-5th May 1957, with the follow-up recording session held on 2nd December. The album was Coltrane's first for Atlantic Records after leaving the Prestige label, and ultimately marked a major turning point in his career.
Less than a month after appearing on Miles Davis's A Kind of Blue, Coltrane started work on a new album. The sessions would be aborted shortly after beginning, although these early recordings would plant the seeds for the songs "Giant Steps"' and "Naima". The original musicians here were Cedar Walton (piano), Paul Chambers (bass), and Lex Humphries (drums).
When Coltrane returned to the studio to build on these earlier sessions, he returned with a dependable lineup of new musicians, including pianist Tommy Flanagan and drummer Art Taylor. Bassist Paul Chambers was retained from the original sessions and would be the inspiration for the album's closer "Mr P.C.".
Giant Steps is more of a personal album than any of Coltrane's others. Three of the tracks are dedicated to family members. "Syeeda's Song Flute" is perhaps the most revealing, with the song being named after Coltrane's stepdaughter. The song is light and serves as a fine palette cleanser for the hectic and frantic notes on "Spiral".
"Countdown" is a tribute to the harmony of the jazz standard "Tune Up", a song written by Eddie Vinson but mainly credited to Miles Davis. This song sees a lot more complex improvisation that is scattered all over the album.
"Naima" is known as a romantic jazz song, if ever there was one. When people talk about the breadth of Coltrane's talent on display in Giant Steps, it is hard not to imagine the wild contrast of the beautiful and haunting "Naima" in comparison to "Cousin Mary", a blues-inspired song played with the same infectious intensity as the title track.
The number is one of Coltrane's catchiest and helps to make the album one of Coltrane's most accessible. Although, this was not always the case. Critics met the album's release with mixed feelings. At the time, the album was considered by some to be too technical and not focused enough on packing an emotional punch.
The recent release of Kind of Blue is important here. Giant Steps lacks the slow sophisticated melodies that the critics were so enamored with at the time. Hard bebop was not to everybody's tastes and slow, smoky, melancholic jazz numbers were expected from a musician who had just spent hours in the company of Miles Davis recording what would become the greatest all-time jazz album.
To dismiss the album as solely the opposite of Davis' creation would, however, grant the seminal record a disservice; the work is a seminal release in its own right. In the business of not emulating Davis's success, Coltrane actually went a few steps further, experimenting with different genres and musicians as much as possible.
---
Coltrane's approach to Giant Steps was groundbreaking at the time, as he used a new harmonic structure that would become known as the 'Coltrane changes.' This involved the use of rapidly changing chords that were often three or four steps apart, creating a sense of harmonic movement that was both exhilarating and challenging for both the performer and the listener.
One of the most impressive aspects of Giant Steps is the way in which Coltrane is able to seamlessly blend complex musical ideas with a sense of spontaneity and improvisation. He was able to take risks with his playing that would have been unthinkable for other jazz musicians at the time, and this willingness to experiment and explore new sounds and ideas is what makes Giant Steps such a timeless classic.
A total of twenty-six chords are used throughout the album, although what helps to make the album so special is the way in which those chords are utilized. Coltrane's fellow musicians were challenged with trying to master the complex chord progressions. Musicians were encouraged to improvise as much as possible, although the songs do not stray too far from the traditional jazz and blues traditions, in part due to the chord complications,
The album has been an influence on countless musicians since its release, with many citing it as a seminal work that changed the course of jazz music. Coltrane's legacy as one of the most innovative and influential jazz musicians of all time is perhaps nowhere more evident than on Giant Steps an album that continues to inspire and captivate listeners more than sixty years after its release.
---
Giant Steps
Giant Steps was released in February 1960 on Atlantic Records.
Tracklisting
"Giant Steps" (4:43)
"Cousin Mary" (5:45)
"Countdown" (2:21)
"Spiral" (5:56)
"Syeeda's Song Flute" (7:00)
"Naima" (4:21)
"Mr. P.C." (6:57
Personnel
John Coltrane: tenor saxophone; Tommy Flanagan: piano; Wynton Kelly: piano on "Naima"; Paul Chambers: bass; Art Taylor: drums; Jimmy Cobb: drums on "Naima"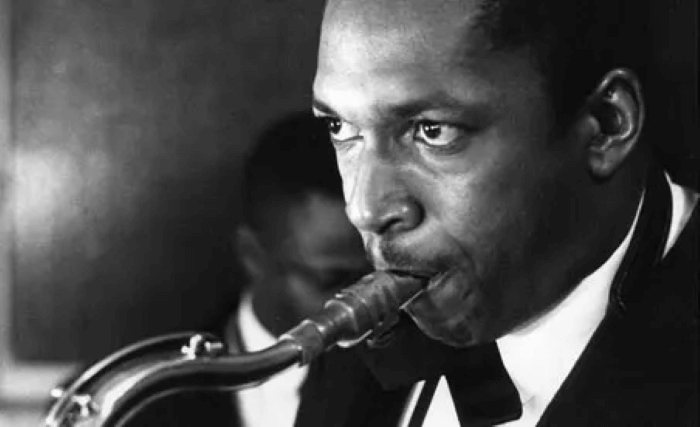 Discover next: Best of John Coltrane Albums
Giant Steps was included in the National Recording Registry by the Library of Congress in 2004. The announcement cited the album's important cultural, historic, and aesthetic significance.
The album has also been re-released by Rhino Records, accompanied by early versions of a few of the songs, as well as in mono.