If you miss live music, then Steven Feifke Big Band's Kinetic is the perfect solution.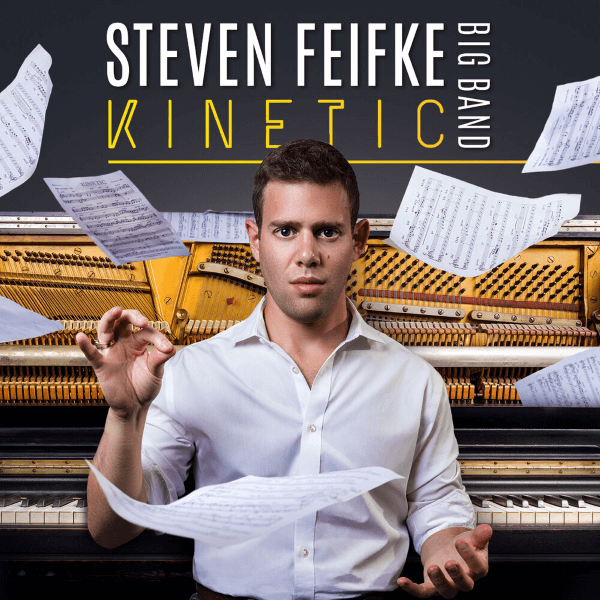 Steven Feifke Big Band
Kinetic
(Outside in Music)
Kinetic is the debut album of Steven Feifke Big Band. Steven (born 1991) released his first self-produced album, Peace in Time, in 2015, but he is also a prolific pianist, composer, arranger, and orchestrator with an impressive discography; he appeared on 30 albums before turning 30 years old.
"I have been running my big band for the past 10 years — since just after I moved to New York, pretty much. Of all the musical releases I have been a part of since then, Kinetic is the one that contains the most "Feifke" on there. It's just 100% me. It's my own voice, and it's my own unique stamp on the big band idiom, I am really proud of the end result."
— Steven Feifke
After listening to the album, and all his compositions, it's clear that he had a lot of really good things to say.
Steven Feifke and his Big Band had a monthly residency at the Django in New York City for two years, before all live performances had to stop. During that time, they certainly managed to create the splendid cohesion that we can hear on all the tracks, and this is what makes this album a success at its core. It screams to us, "We love live music!"
We can imagine that they miss playing their music live as much as we miss enjoying it, but Kinetic provides us with the approach to and manner of live music throughout its tracks and their succession. Yet, the sound is polished and clean, thereby making it even more enjoyable, and we can thank them for that.
You can also listen to Kinetic on Spotify , or on CD.
---
Steven Feifke Big Band – Kinetic – Info
Line-up
Steven Feifke: piano; Andrew Gould: saxophone; Alexa Tarantino: saxophone, alto; Lucas Pino: clarinet, bass; Sam Dillon: saxophone, tenor; Andrew Gutauskas: saxophone, baritone; Max Darché: trumpet; John Lake: trumpet; Benny Benack III: trumpet; Gabriel King Medd: trumpet; Robert Edwards: trombone; Jeffery Miller: trombone; Armando Vergara: trombone; Jennifer Wharton: trombone; Alex Wintz: guitar; Dan Chmielinski: bass; Ulysses Owens, Jr.: drums
Style
Big Band
Kinetic was released on April 9, 2021 // Outside in Music – OiM 2112
Recorded at Sear Sound in NYC on January 6 & / 2019
---