Double Music is the first album by Sten Sandell and Lisa Ullén. It was recorded at Musikaliska in Stockholm, Sweden, in February 2021, and released on October 15, 2021, by Clean Feed Records. Sten Sandell and Lisa Ullén are two of the most important names in the Swedish jazz and avant-garde scene. They are releasing a duo album for the first time together.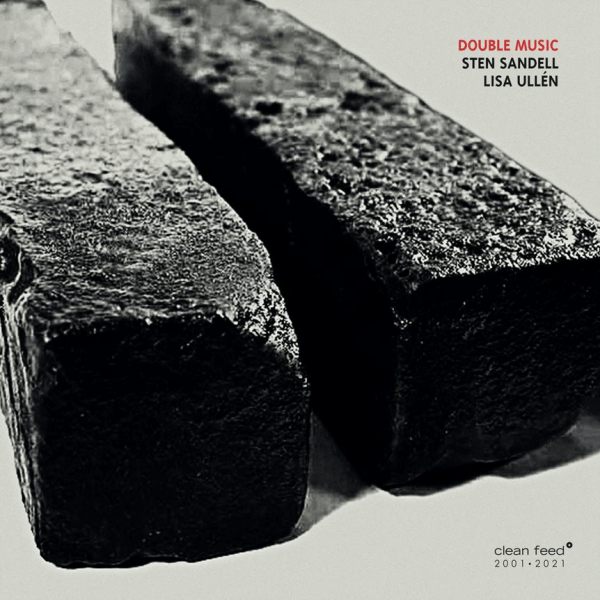 Sten Sandell, Lisa Ullén
Double Music
(Clean Feed Records)
Sten Sandell is recognized as Swedish improvisational music's most fascinating and independent voice. His first album is from 1985, and one of his key releases from 2012, Music Inside The Language – I II III, won the Royal Academy of Music's Jazz Award.
"The pianist Sten Sandell is one of Swedish improvised music's most brilliant, captivating, and independent voices. His musical activities are characterized by strong artistic integrity, and he has with great consistency developed a characteristic aesthetic attitude that inspires countless musicians."—Royal Academy of Music
Lisa Ullén is a key figure in the free-jazz world. She first dedicated herself entirely to improvisation and experimental music until finally, in 2006, after 20 years, she released her first album with her Quartet on her own label. In 2018, Lisa Ullén also released a three-CD solo piano work, an amazing improvised album, aptly named Piano Works, which received well-deserved critical acclaim.
"Lisa Ullén has once again proved with her obvious and sharp language that she is one of the most important composers of our time with a core that has a glow that lasts for several light-years."—Manifestgala
You can easily understand the excitement of anyone who is close to the Scandinavian music scene, or avant-garde piano works; two such forces could either annihilate or elevate each other. To our greatest pleasure, the latter happened, and it was a pure sublimation of two rocks.
"…a sea of chords and discord." —Liner Notes
The cover art focuses on two humble charcoals, but zoomed in, they look as big as rocks, clearly evoking two black piano keys. This could be a good metaphor for Sten and Lisa, stable and present as ever, ready to sketch the most beautiful music, like two humble keys creating an entire piano.
They are playing in such osmosis, with such a complete harmony in their "chords and discords", that they are completely and definitively embodying themselves as one, while still being perfectly distinct. An entire universe of forms and happenings is splashing from the two pianos. They are so thoroughly playing their instruments that it feels like every part of them produces a sound at some point, thereby creating a sonar view of their pianos, their universe, and that very moment.
This is a fantastic release.
---
Double Music – Info
Tracklisting
1. Double Music I (7:50); 2. Area With Twenty Fingers (10:09); 3. Twenty Fingers (7:57); 4. Crossing (6:52); 5. All Or Nothing (7:31); 6. Onyx I (7:27); 7. Onyx II (7:23); Double Music II (5:07)
Musicians
Sten Sandell: piano; Lisa Ullén: piano
Double Music was released on the 15th of October 2021 // Clean Feed Records
Double Music is part of our selection"Best Jazz 2021"
---