Jesup Wagon is the new album by tenor saxophonist James Brandon Lewis, with the Red Lily Quintet (bassist William Parker, drummer Chad Taylor, cornetist Kirk Knuffke, and cellist Chris Hoffman), which was recorded, mixed, and mastered in late 2020 at Park West Studios, in Brooklyn, New York. Jesup Wagon was released on May 7, 2021, by TAO Forms.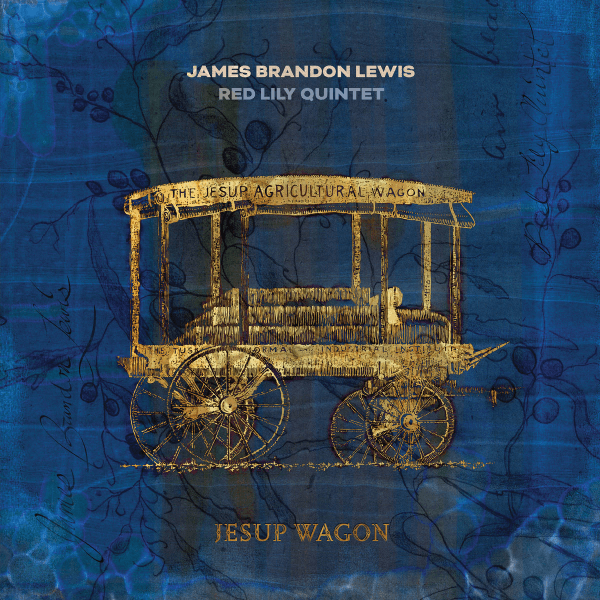 James Brandon Lewis, Red Lily Quintet
Jesup Wagon
(TAO Forms)
How do we explain something that must be experienced to be understood? That is what parents and teachers try to do. The knowledge is there; the message is there, too; however, the transmission is often difficult. What writers, musicians, and painters do with words, notes, and colors is more sensory, more personal, more abstract, and sometimes less accessible. Experts and analysts have technical understanding and knowledge, but their experience is intellectual and not sensory enough.
In the end, poetry is the only way to quickly transmit a complete and sensory experience of what has not yet been experienced. Poetry alone can create a vivid and deep impression of our total apprehension of what we do not know. It can make us see all its dimensions, and it can make anything sublimely and simply beautiful in all its humanity and nature. In this sense, a poet is the ultimate artist. A poet can make us instantly feel the universal and permanent beauty of things—even that which is simplest or most demanding.
What James Brandon Lewis is offering here is poetry. Nothing less. Is it as poetic as A Love Supreme? Without a doubt. Is it as major? We can only hope. How do we explain it? Unfortunately, only poetry can do it, and this poetry lies in Jesup Wagon.
Jesup Wagon – Info
Line up
James Brandon Lewis: tenor saxophone; Kirk Knuffke: cornet; William Parker: bass, gimbri (#2 & #7); Chris Hoffman: cello; Chad Taylor: drums, mbira (#6)
---
Discover next For Mahalia, With Love by James Brandon Lewis & Red Lily Quintet
Jesup Wagon was released the 7th of May, 2021 // TAO Forms 05
---