The new FIRE! album, defeat, has been released February 19, 2021, on Rune Grammofon. It features the usual trio (Mats Gustafsson, Johan Berthling, and Andreas Werliin), plus Goran Kajfes and Mats Åleklint. It was recorded in October 2019 and February 2020 in Copenhagen (The Village Recording).
FIRE!
Defeat
(Rune Grammofon)
FIRE! records are often like an explosion—a full blast of energy, exploding into your ears (and we love it). This is certainly why they have an exclamation mark ("!") after FIRE, to warn their listeners, but on defeat, it sounds like the band is preventing that explosion. One can imagine them playing with a charge of energy—a pure ball of fire that they turn around, making it grow and glow, always under pressure but perfectly managed. The fire is here, archaic and eternal, yet completely mastered, and even a spark could burst it (and we love it even more).
The feeling we get listening to this album is that they could burn the place down in a blink of an eye but profoundly and comfortably master their subject to let us enjoy the pure idea of energy; it's tribal, even.
In that sense, the title, defeat, is hard to understand. We can imagine that it is linked to another message, closer to the dark sleeve design, and the way the track listing is printed on the back. This listing looks like a poem declaimed at the very end of Apocalypse Now: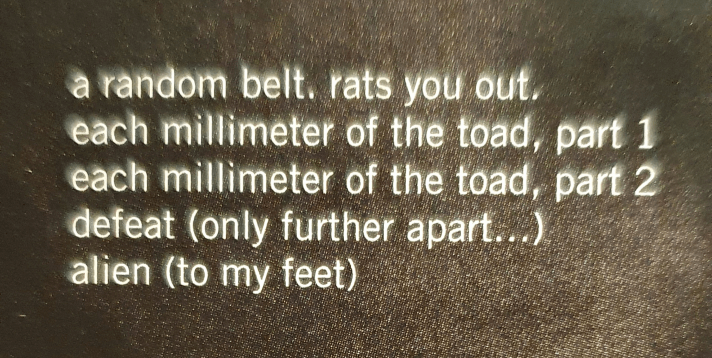 Just remove "part 1" and "part 2", and you get:
a random belt, rats you out
each millimeter of the toad,
each millimeter of the toad,
defeat (only further apart)
alien (to my feet)
Imagine if all the shadows of the cover art started moving, enlightened by the fire that's dancing around them.
This really matches the feeling you get listening to this album. It's a perfect album.
FIRE! – defeat – Info
Line up
Mats Gustafsson: saxophone; Johan Berthling: bass; Andreas Werliin: drums; plus Goran Kajfes: quartertone trumpet & Mats Åleklint: trombone, sousaphone, and horn arrangement.
Released on the 12th of February, 2021 // Rune Grammofon RCD2217