Two Duos is an album by cellist Okkyung Lee, in duet with Jérôme Noetinger on Revox B77 for the first track, and with Nadia Ratsimandresy on Ondes Martenot for the second. It was recorded live at Cafe OTO, one of the best jazz clubs in London, England, on March 28 and 29, 2019, by Paul Skinner and Shaun Crook, and it was released on February 25, 2022, by Otoroku.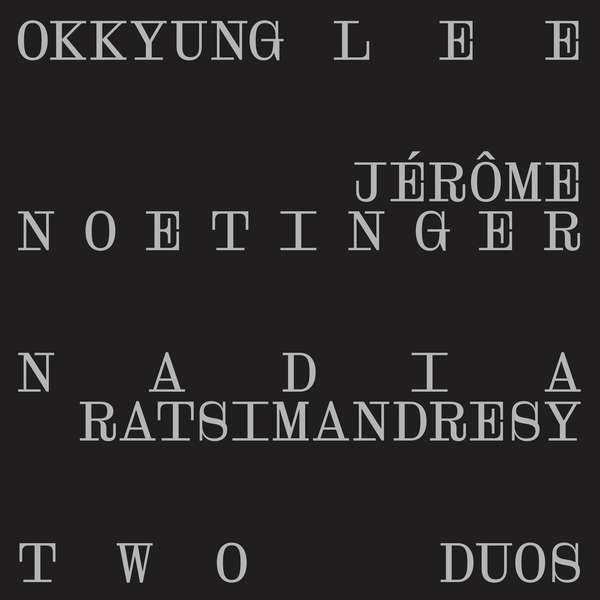 Okkyung Lee, Jérôme Noetinger, Nadia Ratsimandresy
Two Duos
(Otoroku)
Two Duos is an outcome of the three days' residency that Okkyung Lee spent in Cafe Oto at the end of March 2019, featuring the following concerts:
Okkyung Lee & Matana Roberts
Okkyung Lee/Jérôme Noetinger (duet)
Okkyung Lee (solo)
Okkyung Lee/Pat Thomas (duet)
Okkyung Lee/Rashad Becker (duet)
Okkyung Lee/Nadia Ratsimandresy (duet)
The first duet of Two Duos is with Okkyung Lee and composer, improviser, and sound artist Jérôme Noetinger, who works with electroacoustic devices (e.g., the Revox B77). While Okkyung Lee improvised, Jérôme Noetinger taped it, and, through the recording, "progressively, the cello is returned, duplicated, and manipulated with increased velocity and distortion."
The second duet is with Nadia Ratsimandresy, playing the Ondes Martenot, an early 20th-century electronic musical instrument. "Ratsimandresy grasps the Ondes' extraordinary capacity for dexterity, nuance, and speed, hounding Lee's cello in a bid to drive her instrument out of the past and into the future."
Both tracks—each about 20 minutes long—are just as satisfying as popping bubble wrap. The sound is a challenging mix of bowed cello, and all its parallel possible duplications in an electronic world, unfolding just as hypnotically as close-up, fractal short films. The depth is never-ending, and, even after 20 minutes, you will still want more of it.
The quality of these two duets is amazing, and it only begs the question, "Will the other concerts also be released?" We very much hope so!
Two Duos – Info
Tracklisting
Side A – 20:31; Side B – 21:42
Okkyung Lee: cello; Jérôme Noetinger: revox b77; Nadia Ratsimandresy: ondes martenot
Two Duos was released on February 25, 2022 // Otoroku – ROKU027
---