Hi Res Heart is the first album that Martin Archer, Charlotte Keeffe, and Martin Pyne have released together. Hi Res Heart was recorded during the COVID-19 lockdown, from August 2020 until March 2021, and it was released on May 14, 2021.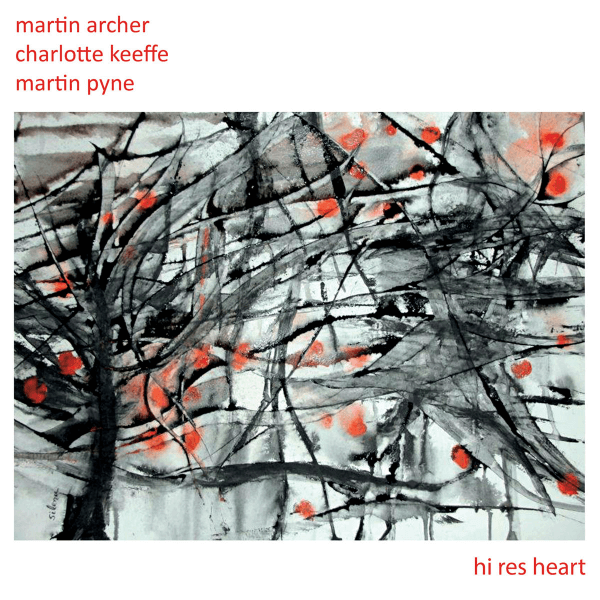 Martin Archer, Charlotte Keeffe, Martin Pyne
Hi Res Heart
(Discus Music)
Hi Res Heart's first impression is clear and strong; it is captivating and hypnotizes your brain for hours, proving that even the abstruse can be comfortable. Yet, the more you come back to it, the more you feel there is something different about it, but it's hard to put your finger on it.
This may be due to the album being recorded during the COVID-19 lockdown. Each track was recorded layer by layer. Each member in turn laid down their solo part, then passed it to another member, who added their part on top, and then passed it to the last member, who finalized the track.
One might imagine someone recording themselves asking questions and leaving spaces between each one. A second person listening to it can fake an interaction by answering the questions in the spaces provided, but at no point does this action affect the original recording. Even if a third person starts reacting to the recorded outcome, it adds complexity and even more realism to it, but it will not result in an interaction. To the listener, it may sound like a discussion, but it is just a simulation of one.
This is precisely why this music is so bewitching; we are so used to synergies in jazz, wherein musicians adapt, interact, and co-create spontaneously and simultaneously. However, on Hi Res Heart, every track has an initial voice that is not affected by the other inputs, triggers, or developments; a second voice, reacting to the first while unaware of the third; and the third and final voice, reacting to and provoking the previous two, even while it is completely isolated and ignored.
Although the track's foundation is sometimes hard to spot without the liner notes, it creates an effect of constant surprise, and, strangely enough, it also creates a comforting sensation, as the development is somehow disconnected from the surrounding triggers. It's not that the tracks are not progressing; it's more like if you find the right thread, then you can follow it, as the two other musicians revolve around it.
This is an asynchronous conversation that should make no sense at all, but it makes perfect sense. Amazing album thereby confirming its first impression: it is highly captivating and hypnotic.
---
Hi Res Heart – Info
Track listing
Silena's Fire (06:14) – G.E.M. (03:49) – Looking For Gene (05:48) – Song For Bobby Naughton (11:10) – Seduction Dance (04:59) – June (03:14) – Jean (07:02) – Earth Memory (04:19) – Sleep Uneasy (05:44) – The Story In The Mirror (01:38) – Tommy (02:38) – Dolly Grip (07:30)
Line up
Martin Archer: sopranino, soprano, alto, tenor, baritone saxophones, Bb and bass clarinets, flute, bass harmonica, electronics; Charlotte Keeffe: trumpet, flugelhorn, electronics; Martin Pyne: drums, percussion, vibraphone, toy piano.
Hi Res Heart was released on the 14th of May 2021 / Discus Music #108CD
---