Julie Kjær 3's Dobbeltgænger was released on March 28, 2016, on Clean Feed Records. The album was recorded in London, UK at the Vortex Jazz Club on January 13, 2015.
Everything is perfectly mastered. Julie Kjær is already recognized for her talent, and Steve Noble (drums) and John Edwards (bass) are both remarkably strong and inventive, but together, this trio creates something clearly exceptional.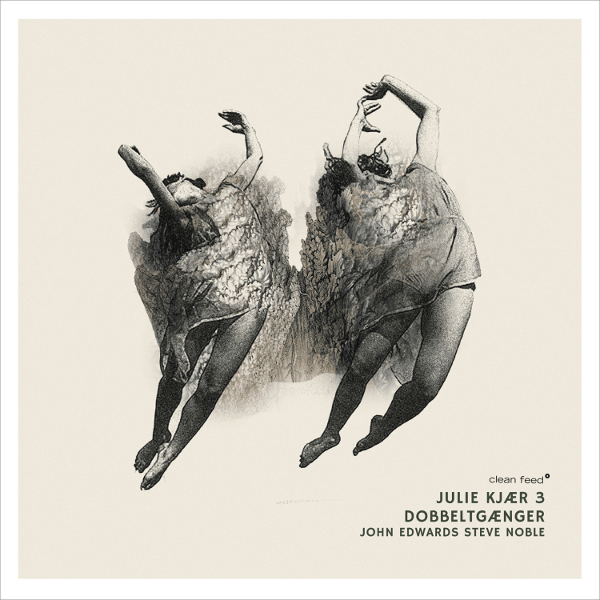 Julie Kjær 3
Dobbeltgænger
(Clean Feed Records)
From the first seconds of listening, you will feel as if you have entered something from which you cannot escape. Its basic, traditional sounds are cozy and reassuring but immediately intriguing. The melodies and rhythms play with each other and hypnotize the listener, lighting a path like a lantern in the dark, but each measure that illuminates a new space also submerges others.
Dobbeltgænger
The album's cover art is understandable, thanks to its title, Dobbeltgænger. A doppelganger is a person who looks just like another. This can mean an evil twin or simply an uncanny resemblance in appearance or behavior. The title tracks precisely express this duality, but it is not mimetic; it is more like an imitation, like a hidden part of oneself, or a version of oneself living in a parallel world, invisible but still felt by everyone.
The strength of the album comes from its fragile beauty and the artistic poetry that is quintessential to free jazz.
---
Julie Kjær 3 – Dobbeltgænger – Info
Line-up
Julie Kjær: alto saxophone; John Edwards: double bass; Steve Noble: drums.
Style
Avant jazz, Free bop
Dobbeltgænger was released on March 28, 2016 // Clean Feed Records – CF361CD
---