Pianist, composer, and bandleader Keith Brown's new album, African Ripples, was released on May 20, 2021, via Space Time Records. It was recorded in November 2020 in Queens, NY (Samurai Hotel Studios) and follows the release of Sweet and Lovely (2011) and The Journey (2015).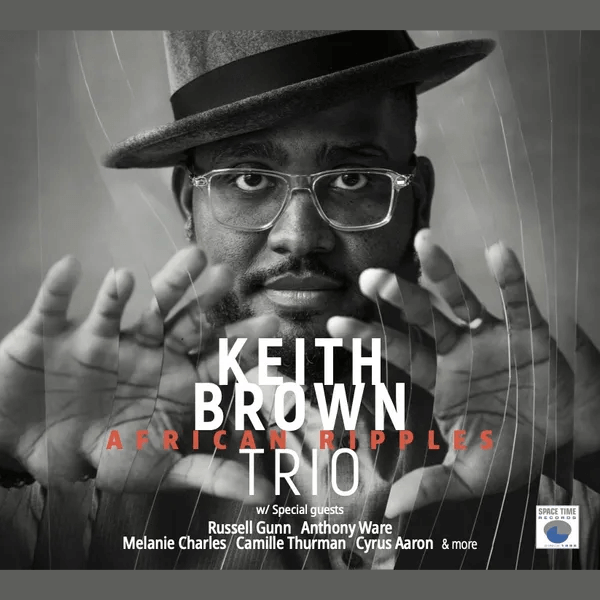 Keith Brown Trio
African Ripples
Space Time Records
African Ripples refers to "African Ripples", the composition by Thomas "Fats" Waller. It is a fresh, enjoyable, and soulful melody, a perfect foundation on which Keith Brown can build his third album as a leader. In his words, "My hope is that the listener will find enjoyment in the sounds, rhythms, harmonies, and melodies familiar to them, and the ones that may be unfamiliar."
The original track extends this positive and enjoyable feeling throughout the album like ripples on the surface of the music, caused by a slight breeze of happiness.
Of the 15 tracks, 4 directly refer to the original track:
the opening track, "African Ripples Epigraph"
the middle suite, "African Ripples Part I" and "Part II"
the closing track, "African Ripples"
All the other tracks echo these foundational ones in different directions.
The Trio itself, like a ripple, has two different line-ups (with a drummer switch) and, thanks to the guest musicians, becomes (in no particular order) a quartet for two tracks, a quintet for three tracks, and a sextet for two tracks, with a different line-up for each.
The mixture of vocal and instrumental tracks is also fluid. Are the vocals sung or spoken? Both!
The source drops positivity, soul, and energy into the music here and there, creating beautiful waves of forms and shapes. This album takes you on a very pleasant journey, with many layers to explore. It is strongly grounded in the cheerfulness of Fats Waller, yet it reminds one of the cosmic depths you can find on Coltrane's Africa/Brass or Olé albums, and this mix is what makes Keith Brown's original music so incredibly good.
African Ripples – Info
Line-up
Keith Brown: Piano, Rhodes, Synths; Dezron Douglas: Acoustic and Electric Bass; Terreon "Tank" Gully: Drums (except tracks 6, 7, 8, 13); Darrell Green: Drums (6, 7, 8, 13) | Special Guests: Russell Gunn: Trumpet (1, 5, 12); Anthony Ware: Tenor saxophone (1, 5, 12); Melanie Charles: Vocals (9); Camille Thurman: Vocals (8); Cyrus Aaron: Spoken Word (1, 14); Nêgah Santos: Percussion (12, 13); Tamara Brown: Background Vocals (8, 9).
African Ripples was released in May 2021 // Space Time Records