Nocturne is the new album by Aakash Mittal's Awaz Trio, with Aakash Mittal on alto saxophone, Miles Okazaki on guitar, and Rajna Swaminathan on mridangam and kanjira. Nocturne was recorded on October 18th, 2018 at Samurai Hotel Studios by David Stoller, and produced by Aakash Mittal.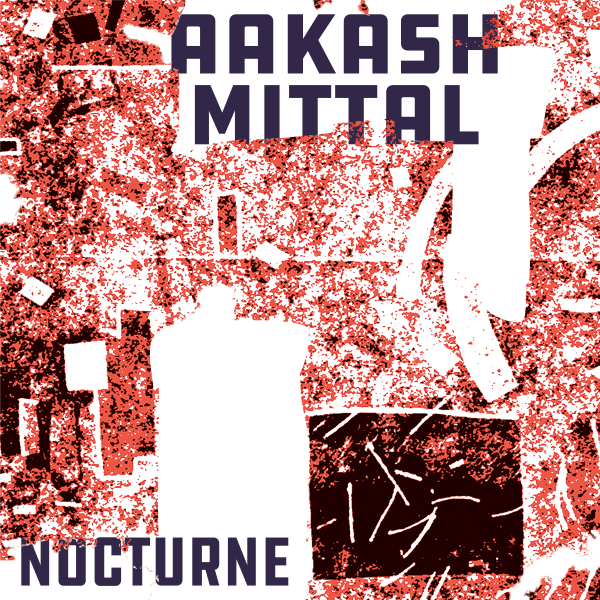 Aakash Mittal's Awaz Trio
Nocturne
(Self-released)
"This project began with the idea of creating a series of nocturnes based on the Hindustani evening and night ragas I was studying with Prattyush Banerjee. […] Over time, these compositions evolved to include more and more of Kolkata's noisescape as well as the spirit of communal and ritual sound-making in the city."
— Aakash Mittal
I have never been to Kolkata. But, for me, the name is so evocative of India Song, the movie by Marguerite Duras. Two distinctive sounds come to mind directly: "India Song", the theme, and "Chant Laotien". Two pieces of music that are quite different but so very matching in this context, create the perfect soundtrack of what life could feel like in a mansion, in the evening time, in the summer torpor of the monsoon, in Kolkata, at that time.
Nocturne achieves the same level of evocativeness but in today's Kolkata, at night, no longer in a residential or embassy area, but in the very heart of the city, in its busy streets, its packed busses, and its lovely, bubbling or even sometimes calm life.
Just like the cover art is an impression, a collage of noises, the album is a succession of pieces, based on the city sounds (the 'street music' parts) and evocations (the 'nocturne' tracks) at night.
"This music is as much about my friendship with Rajna Swaminathan and Miles Okazaki as it is about two-note dyad progressions and short-long rhythms. Rajna's extensive musical vocabulary drawn from her experience playing in numerous artistic communities is central to this work. […] I love the way Miles' intuition and musicianship grounds our collective interpretations of each piece and contributes a sense of liberation through the structure on this album."
— Aakash Mittal
Yes, we strongly recommend Nocturne, as astonishing as Kolkata must be for any western tourists, and as delightful as you could expect from an album inspired by the City of Joy.
Aakash Mittal, Miles Okazaki, Rajna Swaminathan
From their respective websites, we can read:
Hailed as "A fiery alto saxophonist and prolific composer" by the Star Tribune (Minneapolis), Aakash Mittal is emerging as an expressive artistic voice. His self-released album, Videsh, has been regarded as "point[ing] toward new possibilities in improvised music." (The Denver Post) As a composer and improviser, Mittal employs colorful dissonances, meditative silences, and angular rhythms to express environments and spaces ranging from the American West to the dense streets of Kolkata.
Miles Okazaki is an American guitarist and composer based in New York City. His musical style is described by the New York Times as "utterly contemporary, free from the expectations of what it means to play the guitar in a group setting — not just in jazz, but any kind."
Of his many albums, you should check out Trickster (2017), with Sean Rickman (drums), Craig Taborn (piano), and Anthony Tidd (bass) released in March 2017 for the Pi label.
Rajna Swaminathan is an acclaimed mrudangam (a barrel-shaped South Indian drum) artist, composer, and scholar. Rajna has been described as "a vital new voice" (Pop Matters), creating "music of gravity and rigor… yet its overall effect is accessible and uplifting" (Wall Street Journal). In her music and research, she explores the undercurrents of rhythmic experience and emergent textures in collective improvisation.
Rajna Swaminathan previously released the excellent Of Agency And Abstraction (2019), co-produced by Vijay Iyer. Like Nocturne, the album featured Miles Okazaki on guitar and was recorded at the Samurai Hotel Recording Studio in Astoria, New York.
Awaz Trio – Nocturne – Info
Track Listing
1. Opening (1:22) – 2. Nocturne I (2:33) – 3. Street Music Part I (1:20) – 4. Nocturne II (10:52) – 5. Nocturne II (7:44) – 6. Street Music Part II (1:36) – 7. Nocturne IV (9:18) – 8. Nocturne V (6:04) – 9. Street Music Part III (4:09)
Line up
Aakash Mittal: alto saxophone; Miles Okazaki: guitar; Rajna Swaminathan: mridangam and kanjira.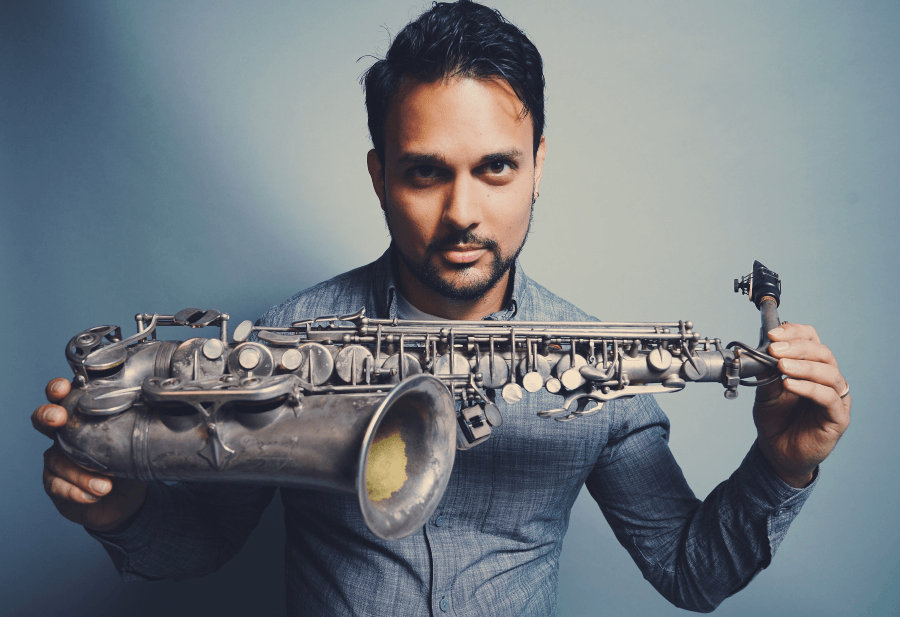 Nocturne was released on the 10th of September 2021 // Self released
---