Secular Psalms is an album by trumpeter Dave Douglas, featuring Tomeka Reid, Berlinde Deman, Marta Warelis, Frederik Leroux, and Lander Gyselinck. The compositions are inspired by Jan van Eyck's "Ghent Altarpiece," as well as music by 15th-century Flemish composer Guillaume Dufay. Secular Psalms was recorded separately by each musician between May 2020—August 2021, and it was released on April 1, 2022, by Greenleaf Music.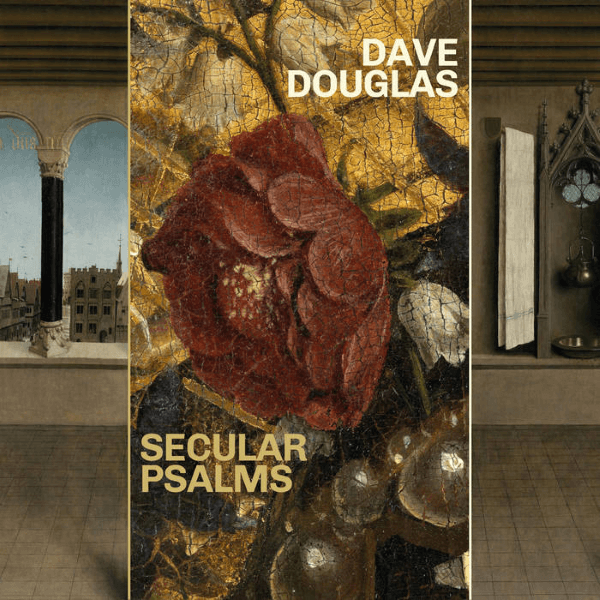 Dave Douglas
Secular Psalms
(Greenleaf Music)
The "Ghent Altarpiece" is a masterpiece of European art, and one of the world's treasures. It was commissioned by the Ghent mayor and his wife around the mid-1420s. Secular Psalms was commissioned 600 years later by the City of Ghent and Handelsbeurs Theater to commemorate the painting with the creation of new music.
It is interesting to think that a jazz composer was commissioned for such a work. We could have imagined a more classical approach with a classical orchestra, aimed at creating holy music. After all, when you look at the panels, the singing and musical angels are part of the upper register with "The Almighty".
Yet, a jazz foundation was preferred. It says a lot about how well jazz is doing nowadays, and how confident we can be that jazz artists will continue to produce exceptional music, but by looking more into the "Ghent Altarpiece" itself, we can notice that the pictured angels are playing the organ—which, at that time, was considered to be a church instrument—but also a harp and a vielle, which were not church instruments at that time and were linked to courtship and love instead.
This decidedly not classical approach of the painters with their deliberate choice of instruments provides a more holistic view of the society that helped jazz become the perfect foundation for this commemoration.
Jazz, as a polyptych, can certainly be designed to focus specifically on a part, as much as on the whole. Its folding and unfolding themes make the art of a piece resonate for years—even centuries.
---
What about the music? Well, it is definitely a high point of 2022. You don't even have to know about the commemoration or the painting to fully appreciate it. This is an elegant mix of medieval, classical, and modern jazz music, and the combination is as mysterious as it is swinging.
"In a visual sense, the piece begins in the space of the outer panels, with muted colors and dank interiors. Subsequent sections explore the inner panels, full of light, showing people from all walks of life. With Edge of Night, the piece returns to the mysterious and darker panels of the Arrival, where Van Eyck's Gabriel and Mary play out this mystery for all eternity."
–Dave Douglas
Secular Psalms – Info
Tracklisting
1. Arrival (8:36); 2. Mercy (6:29); 3. We Believe (4:02); 4. Agnus Dei (4:46); 5. Instrumental Angels (6:27); 6. If I'm In Church More Often Now (4:07); 7. Hermits and Pilgrims (5:46); 8. Righteous Judges (3:33); 9. Ah Moon (6:19); 10. Edge of Night (2:58)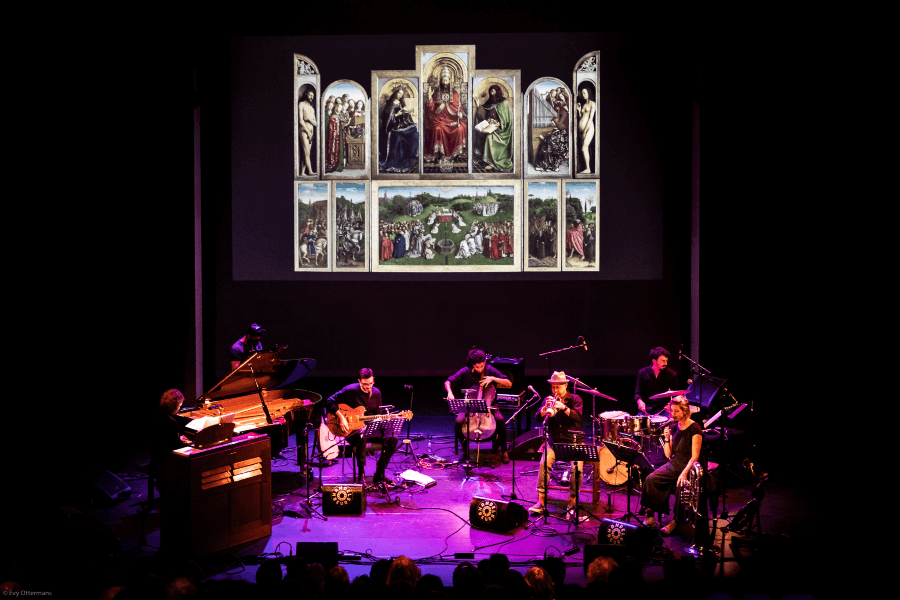 Dave Douglas: trumpet, voice; Berlinde Deman: serpent, tuba, voice; Marta Warelis: piano, prepared piano, pump organ; Frederik Leroux: guitars, lute, electronics; Tomeka Reid: cello; Lander Gyselinck: drums, electronics.
Secular Psalms was released on April 1, 2022 // Greenleaf Music CD-GRE-1090 // Part of the jazz April 2022 selection
---